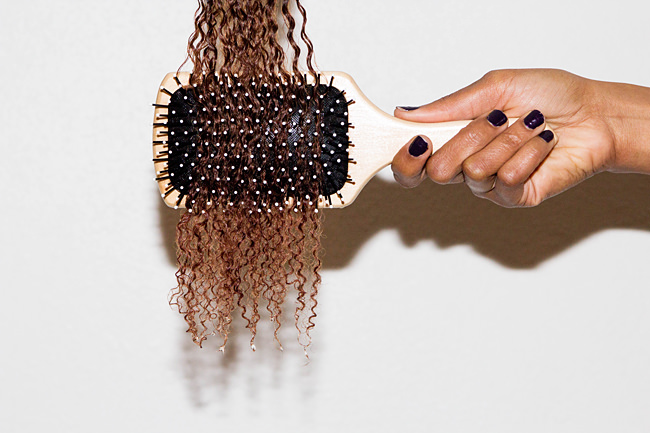 The thought of brushing my hair in any state at the moment is enough to make me cringe. Will I rip out my hair? Of course! Not only is my hair dry at the moment, I am in need of some serious conditioning before I can even consider detangling at all.
Believe it or not, some naturalistas do prefer to use a paddle brush* when detangling their hair and get this, they do it wet.
If you have ever considered wet brushing, the first thing we would suggest is to not do it often, but if you must here are our top 4 tips:
1. Use a ton of conditioner
You should detangle with a boat load of conditioner anyway, but if you plan to use a bush you will need a ton of slip. Do not use the brush to work out the tangles in your hair for that we suggest finger detangling. This leads us to the next tip.
2. Finger detangle first
You need to work out all the major knots before even considering a paddle bush. Your hair is at its weakest when wet and if you have a knot, your brush will rip it out rather than detangle it.
If you do not want to lose a ton of hair, make sure you finger detangle first, and then use the brush last.
3. Don't rush and start form the bottom
When using a brush, make sure you have your hair sectioned off into manageable sections; start brushing from the bottom, working your way to the top.
This technique will minimize damage overall. Take your time because if you rush, you will only damage your hair in the process.
4. Watch the brush
Start off with a clean brush – free of excess hair – so you can gauge how much hair you are losing. If you are losing enormous amounts of hair with every stroke, put the brush away and use your fingers or wide tooth comb*.
Hair loss just isn't worth it.