I went to the mall the other day and to my surprise they had opened a new beauty supply store. Naturally I went in because no self respecting hair blogger sees a new BSS and walks right past it. I was in the market for a new styling product anyway, that's my excuse and I'm sticking to it.
Unfortunately, I was in and out in a flash. The problem was after browsing the isles for a quick second I could not believe how high the prices were, was there a chance that this store did not get the memo about the recession? There was even one product priced at a whopping $129.00 clearly a mistake but very much in line with what I was seeing.
Most times, styling products fall in the accessories category of the hair care stash; You could probably live without them but you want them because they give you that certain something extra. That Je ne sais quoi if you will.
With the prices of some styling products through the roof most women are on the hunt for some great quality styling solutions that fit their budgets and which last for more than a single application.
Here are 7 brilliant natural hair styling products under $25.00 that you curly girls may want to consider.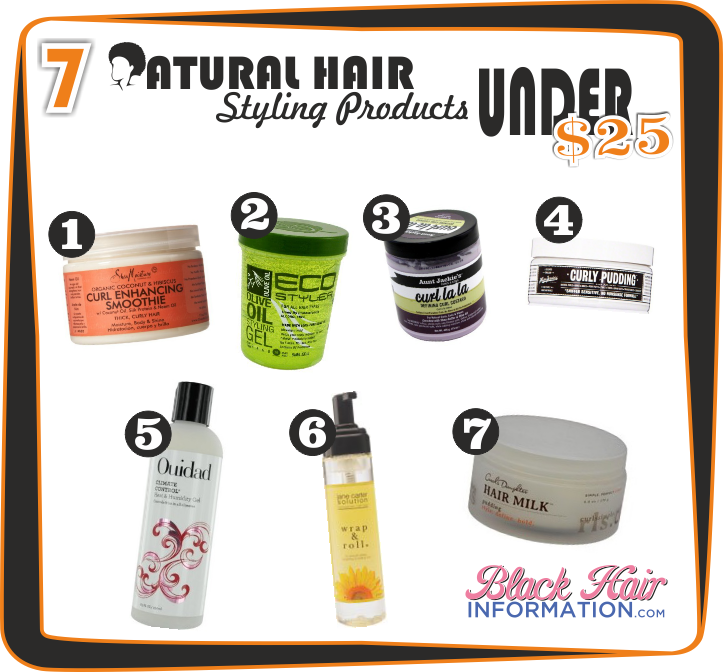 1. Shea Moisture Curl Enhancing Smoothie – If this isn't a jar of sunshine and glitter rain then I don't know what is. This semi light molding cream is thick, smells awesome and the ingredients are so moisturizing its almost a little weird. The price point for a good size jar is just under $21.00 and definitely a must add to your holy grail list.
2. Eco Styler Gel – If you are looking for a hard hold with none of the crunch and embarrassing white stuff then this is the gel for you. Pink, blue, clear, black or green whichever one you choose you are bound to spend less that $5.00 for a giant tub that will last you a very long time. The gel is alcohol free with none of the bad stuff most commercial gels have in them, perfect for women on healthy hair journeys.