Contents:
For the weave and wig lovers among us, braids are like the poor relation that you don't visit very often. I get it. Braids can be an awesome protective style and they can be aesthetically appealing as well, but they are not everyone's cup of tea.
This might be because individual braids can take quite a lot of time to install. In addition, because of the time and skill involved in installing them, they cost a pretty penny too.
I love braids and have used them extensively in my hair journey as they are a very effective protective style. They look great and are ultra-easy to care for and with the advent of ready-done crochet braids, it means that installation time can be cut drastically, usually to around 2 hours!
If you have no aversions to braids and wish to make them part of your regimen then you are in the right place because I would like to clarify a few things about using braids as a long-term protective style.
We will be looking at the best braid size for maximum length retention and I would also like to look at other braiding techniques which are equally important to the health of your hair. If you have fine hair, this video should be extremely beneficial for you, since fine hair tends to get slaughtered by braiding mistakes that will be addressed here.
If you want to start wearing braids as a long-term protective style, here are some things you must consider to keep your hair in great shape both during the install and after the take-down.
1. Braid Sizes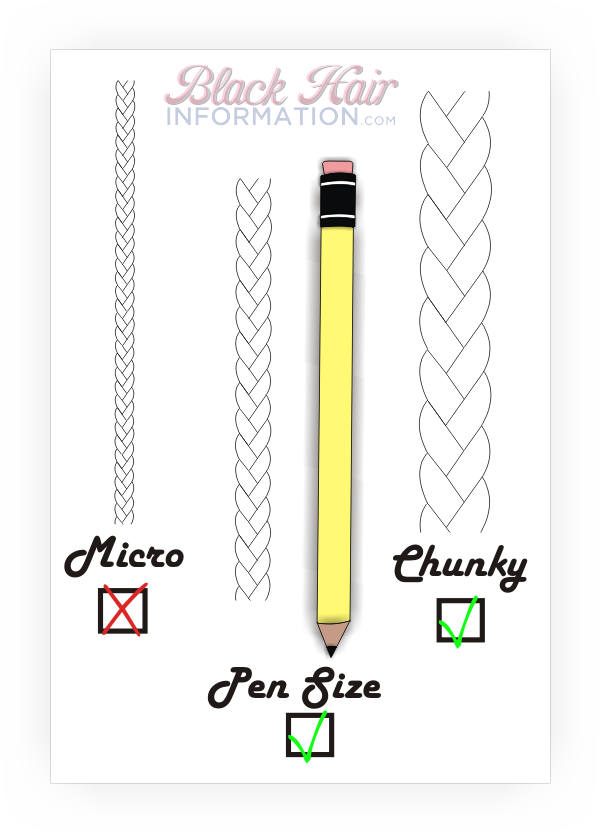 Micro braids
They are very popular with braid wearers because they look beautiful and depending on how they are installed, they can also resemble loose hair. BUT they are also the most stressful braid size to your hair follicles and they typically take the longest time to install. Sometimes up to 8 hours!
Some people have found success with micro braids but many more have found themselves with traction alopecia and excessive breakage. To install them, your sections have to be very small, exposing more of your strands to manipulation that comes from parting, combing, and gripping the hair during the braiding process.
In some instances the length and the volume of hair added to each section can be heavy and pull on the follicles, resulting in stress which inadvertently leads to hair loss. This happens because so few strands are in each section that they can't handle the pressure of the added hair or manipulation. Result? Massive breakage that may only be evident upon takedown.