For the 'weavelistas' among you braids are like the poor relation that you don't visit very often. Even though they are not for everyone, I personally love braids and have use them extensively in my hair journey. They are a very effective protective style, they look great and are ultra easy to care for.
As promised in a recent newsletter, I would like to clarify the best braid sizes for maximum length retention and I would also like to look at braiding technique which is equally important to the health of your locks.
Braid Sizes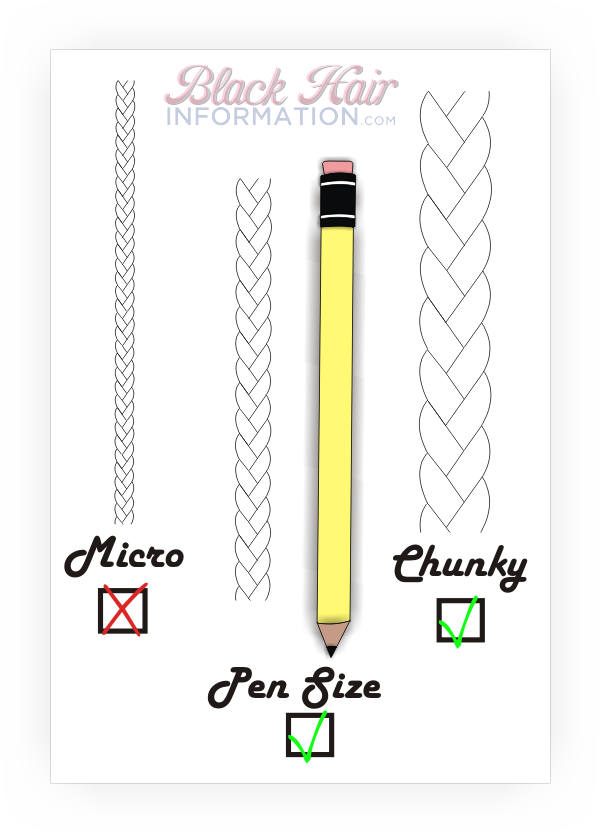 Micro braids – They are very popular with braid wearers but they are also the most stressful braid size to your follicles. Some people have found success with micro braids but many have also found themselves with traction alopecia and excessive breakage.
Pen size braids – These are the ideal size in terms of tensile strength while also being small enough to adequately allow each strand to be equally coated with product when you wash or moisturize your hair.
Chunky braids – These are also great for length retention but they will have to be taken down more often to allow for thorough washing and conditioning. They may also be too big for some people to be aesthetically pleasing!
Of course braid sizes vary widely and you may find success with a braid size between a micro and a pen size braid but the take home message here is the larger the braid, the better your length retention in the long run. The reason for this as I see it are twofold; weight and tensile strength.
Weight
This is particularly important if you are using hair extensions*. When you braid a very small section of hair as in micro or mini micro braids and you attach to this section to hair extensions*, you are adding stress to your follicles from the extra weight of the extensions*. A larger section of hair will be able to withstand the weight of hair extensions* better than a small section.
Originally posted 2012-09-04 19:00:49.