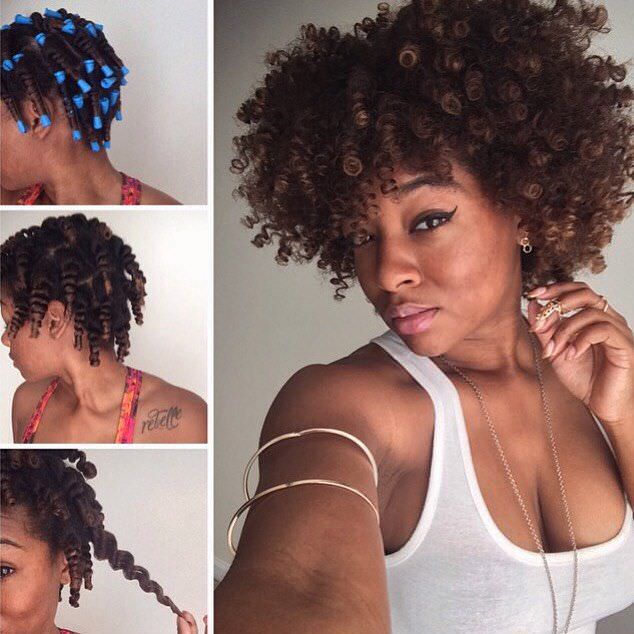 There are few things greater than finally forming your hair into a perfect big, curly afro. Of course it comes with a lot of manipulation, tweaks, and styling for certain looks, but it's so worth it when our hair FINALLY comes out like the tutorial.
Styling a curly afro tends to be one of the more difficult styles to achieve because the curls never really come out how we imagined, we can never get the volume how we really want, our hair becomes incredibly frizzy, among many other things.
However, all of these problems can be easily solved and you'll have your desired hairstyle in no time! Below are 5 tips to help you achieve the perfect curly afro with perm rods*.
1. Pick the right rod size
Before you just start throwing all types of rods and clips in your hair, you need to determine how big you want your afro and how tight or loose you want your curls. If you want a super defined voluminous afro, try using smaller perm rods*. If you're looking for a Diana Ross-inspired, loose curl look, then maybe you should go a lot bigger–perhaps a perm rod that looks like an average hair roller.
Keep in mind that you're not only picking the right rod size for the look, but also for your hair length. Obviously tiny curls are going to look a lot different on someone with a TWA when compared to someone with waist length hair; so make sure you adjust the sizing so you can get as close to your desired look as possible.
2. Make sure the rods are placed correctly
Often times your afro isn't coming our correctly because your rolling all of your rods in the same direction. In reality, you need to be rolling them in a way that is going to add volume and compliment your features.
For an example, you have a thin crown so you roll the perm rods* away from your face so you can tease the roots and work in volume. However, you also rolled the rods away from your face in the front and now your afro doesn't sit right. What you should have done was rolled the rods towards your face so that your curls would fall forward and not back.
Depending on the look you're going for, you'll probably need to adjust the rods around your face and on the crown of your head accordingly.