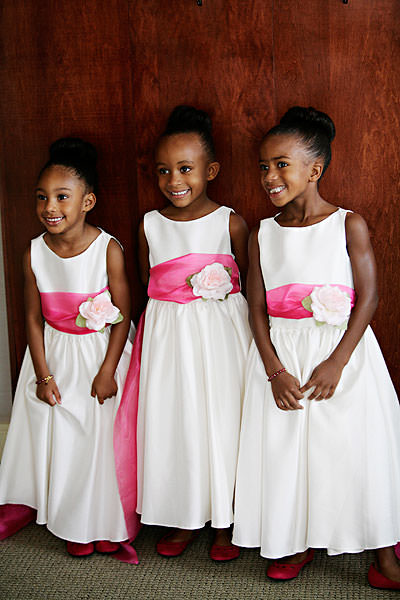 Weddings are so special that we all take a ton of time to decide what hair style to wear. If you are in the bridal party you want your hair to be on point. My daughter was a flower girl at my friend's wedding recently and she wanted her hair straightened for the occasion. I agreed because she has always worn her hair curly and I couldn't wait to see the length of her hair when straight.
I straightened her hair the day before the wedding. Then in the morning I quickly ran a flat iron* on the tips to keep them stretch.
She went out with her hair silky straight but within a few minutes of being outside her hair had shrunk to her ears. I didn't understand why this happened at the time and I could see the disappointed look on her face as she realized her hair had turned to a fro. At the time, I had no clue on why her flat ironed look would have disappeared within minutes but now I know where I went wrong;
I underestimated the relationship between humidity and natural hair
I did not know anything about the serious impact of humidity on our hair. The wedding was in another state with a completely different climate from where we reside. Had I known how humid it was going to be I would have styled her hair in a style which embraced the humid weather.
I did not deep condition
I did not even pamper her hair before flat ironing, I just applied conditioner for a short time and washed it off. I should have deep conditioned her hair to restore the moisture stripped by shampooing. That way her hair wouldn't have attracted as much moisture as it did from the air which resulted in it puffing up.
I did not use any anti-humidity products
When I straightened my daughter's hair I did not use any anti-humidity products such as serums that shield the strand from attracting moisture. These products contain ingredients that coat the hair and can be great on special occasions like being a flower girl. Examples of these products include KMS California Hair Stay Anti-Humidity Seal, Garnier Fructis Style Sleek & Shine Anti-Humidity Aerosol Hairspray and many others.
Comment below if what happened to my daughter, ever happened to you?