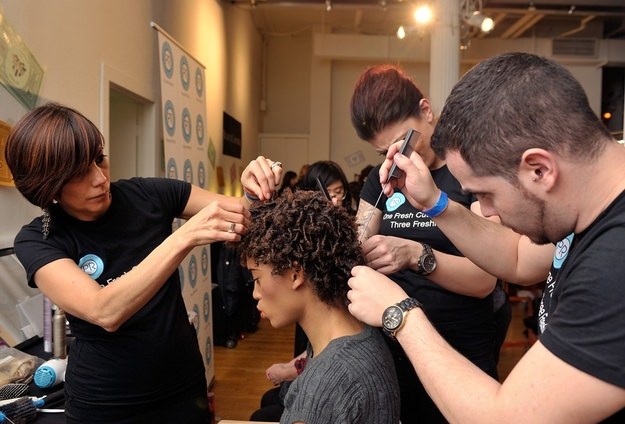 As I go through my daily reading reel of some of the blogs I love, I came across an article about the "Natural Hair Tax". At first I had no idea about what that meant and I was slightly intrigued wondering if there was some sort of additional organized vendetta against my hair.
After reading a bit I understood just what the hair tax was and realized that there is a sort of organized vendetta against my hair.
In the piece, a woman described her experience at a Dominican Salon who charged her more for natural hair. The lady was pretty taken a back by the difference in price aimed at her kinks and curls. She did her research wondering if black salons did the same thing.
She found out that this is actually a thing that is not just typical of the Dominican Salon but also very common in black salons as well.
The experience in a nutshell can be described with this quote from Afrobella:
I walk into a beautiful, brightly colored, black owned salon. Some of the stylists have natural hair done up in intricate styles. The walls are adorned with African-inspired art. I feel like I'm in the right place. I look at the price list — relaxers cost $65. Hair color starts at $45. Rates for natural hair all begin at $100. And there's an asterisk after that last zero.
Now back in the day I also experienced the same thing. What's worse is that I gave stylists a pass when they wanted to charge me more because I believed that my hair was difficult to handle as it was thicker and needed more care.
I learned very quickly that it was absolutely silly for me to pay a black woman more money to take care of my hair, which is basically the same hair she had growing out of her scalp. Where they do that at?
Why the price hike?
If salons are still practicing this sort of exploitation I would love to hear the justification. Is it that I would use more shampoo or conditioner than a woman with a relaxer? Does a natural head use more electricity or water than a client with relaxed hair? How do you break down the physical justification for the price?
Or is it just 'more work'? Which would mean in comparison to a woman with relaxed hair she would take "X" amount of minutes less than myself with natural hair?
I am going to be honest here, I am just shooting in the dark I have no idea how specifically salons determine their prices, but I do know that there is something not quite right when you charge someone with natural hair $30.00 more for the same service as other women without any real or tangible justification?