Blackhairinformation.com offers a variety of advertising opportunities within our popular site. Without impacting user experience with excessive advertising we offer a flexible variety of sizes and locations to suit your campaign and budget. Creating an ad takes just a few moments. With our completely automated system you can select your ad location, the number of days you would like to advertise and upload your artwork and url. You will also be able to track the success of your campaign with our standard metrics.
Why Should You Advertise With Us?
We are a favorite go to website for women of color interested in hair care information, products and related services.
Our website is updated every single day by multiple authors and user generated content which keeps our content fresh and relevant which keeps our loyal members coming back.
Our traffic is ever increasing but on average we serve on average 2.5-5 million page views and millions of ad impressions. Full traffic and demographic information available on request.
Our visitors are from over 150 different countries with about approximately 70% of them from the United States.
We have a first page google ranking for lots of relevant black hair related keywords.
We offer you an easy automated way to purchase adverts from our available ad zones to suit your timescale and budget. Periods include 7 days, 14 days and 30 days.
Advertising Locations and Options
We offer strategically placed advertisements in areas of the website where you are most likely to get the best click through rates while still giving our loyal readers a good user experience. Here is the full inventory of advertising and sponsorship opportunities. Jump to section required to see the options available:
Banner Advertising
We offer a variety of banner advertising opportunities on our website. Please contact us directly for a quote.
Social Media Advertising
We can send out an image + link blast to any of our social media sites. You can choose the image, link and content of the ad as well as the time that you would like it sent. All images uploaded must be 600px x 600px to be suitable to post on our social sites.
Please note: As these social sites are not controlled by BHI and are subject to change in algorithms of the individual sites, we cannot guarantee reach or response for your ad. Also please note that links cannot be posted on instagram but you can add you instagram page (e.g. @blackhairinfo) instead.
As of 15th January 2016 these are our social media stats:
Over 809,000 likes on Facebook
Over 244,000 following on Pinterest
Over 48,000 following on Instagram
Social media bundle – Save by purchasing our social media bundle

We will contact you shortly after purchasing to confirm the date/time that you would like you social media blast to be posted.
Sponsored Post Advertising
Individual posts are the most viewed pages on our website and they offer an excellent way to promote your products with our readers in a more personal way without breaking the bank. Blackhairinformation.com covers a variety of topics related to hair care, hair products and hairstyles so any products or services related to these topics will be ideal for inclusion. Here are the main benefits of sponsored posts advertising:
➜ More user engagement with your brand as the advertisement will essentially be the content of the post.
➜ You will be able to let users know more about your products/services giving them more incentive to engage.
➜ The post remains on the website permanently.
➜ The post will be shared across all our social networks and newsletter.
Rules to remember with sponsored post advertising:
➜ We will write an engaging sponsored article for you complete with images.
➜ We will only accept advertising content closely related to hair care or hair products.
➜ We won't review your products but you are welcome to include some review content, video reviews or other videos related to your products or services.
➜ We can only accept a handful of sponsored post advertising per month to avoid impacting our core content so acceptance will be on a first come first serve basis.
➜ Scheduling of the sponsored posts will depend on our editorial calendar but we will do our best to honor a specific date.
➜ A disclosure will be added to the bottom of your post to remain in line with FTC regulations
Giveaways
Hosted Giveaway + Article Write Up Giveaways are a popular low cost option of getting your products in front of potential customers. Giveaways increase your brand awareness and increase customer involvement with your products. The article accompanying the giveaway will be professionally written by us describing the features/benefits of your products or services. We charge a nominal fee of $100 for this option to cover both the cost of writing the article and for admin work involved in running the giveaway including collecting winners addresses etc. The cost of the products and shipping to the winners of the giveaway will be covered by you. Please note that the minimum value of products being given away must be at least $5 each for each item being offered as a prize. The minimum value of the entire giveaway prize pool should be at least $30. For example you can give away 1 item that usually retails for $30, 3 items that retail for $10 each or 6 items that retail for $5 each or any combination to make up a minimum total of $30. Example giveaways can be found here.
Event Announcements
We can help you promote your hair related events. We offer a completely free option to promote your event with our readers, all you have to do is fill in this form. With the free option we will only publish your event to our website but by upgrading, we will promote your post across all our social media channels twice and you may even choose the dates desired.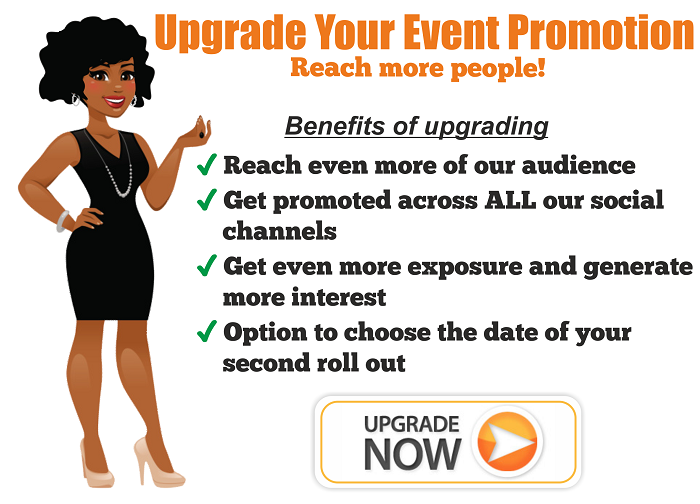 Purchasing Guidelines
A full refund will be given in the following circumstances: 1. If the ad is not approved. 2. In the event of cancellation in writing by the client before the advert goes live on the website. Your company's advertisement will be reviewed within 24 hours of cleared payment providing all relevant artwork/articles are received.
Payment
We accept payment via paypal which is the safest way to pay online.
ADVERTISE WITH US
Can't find what you are looking for or you have further questions/comments? Please email sales (at) blackhairinformation (dot) com or submit a support ticket.