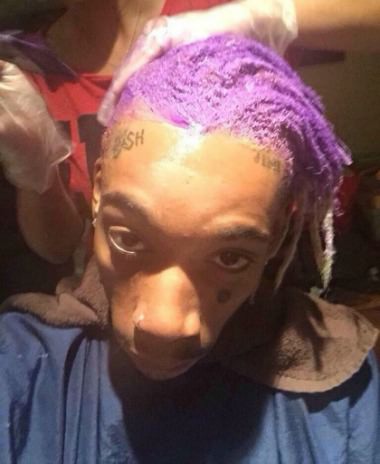 Here's the thing: a kid is allowed to express himself after a bad break up. The least we could allow him to do is dye his hair purple without judgement, considering he might just be paying Amber a million in spousal support.
In an effort not to be too catty about it, we will just say Wiz Khalifa is taking pastel purple to a whole new level, and he proudly displayed his new hair on Instagram. Change is good, people say, and they are right: Wiz has changed his Twitter name to Cameron, which is his real name, and then he colored his hair.
If I were to attempt to blame the divorce for this drastic change, I could look at the other party to see what they are doing as well. Amber has been pretty active on Twitter herself – crying songs of love, hurt, pain, and devastation. If she dyes her hair purple, then we could probably say they have hope, or at the very least, are feeling the same emotions.
I don't think she is the only one feeling slighted though, because maybe this is just a huge distraction for him, as he is feeling the same way. While he hasn't said anything about his personal life, this is his only 'statement' that he has made, after the news of his breakup.
On the other hand, it could be just pure idle behavior and boredom. I am all for hair color, really I am, but I can't help but think that pastel purple is just better on a woman than it is on…well, him.
The comments on Instagram were middle of the road, for the most part, with some extremes here and there, mostly refering to his relationship, and what he has done. For example :
"You letting that Amber sh*t get to you bro."

"I love ur work…but ur straight dumb for cheating on ur wife!! You ruined ur family…you can never get that back! Fix it, so your baby boy can be happy!!!
Truth is they are just as confused as I am*. What do you guys think?