We have all been there. You know those days – the days you wake up and look at your hair in the mirror like What. Has. Happened. To. Me? You know, usually the days when you have something really important coming up, like a presentation, meeting, etc. And if you're like me, you're running late by this time.
So what do you do? Whether it's a bantu knot out fail, if you forgot to tie your hair up before you went to sleep, or whatever else might have happened, don't worry! Here are a few things you should do when you don't have any clue what to do with your hair. Comment below with your favorite:
Turban/Scarf
You really can't go wrong with a good turban or scarf. The best thing about these is that there's more than one set way to put it on.
You can get creative with tying your head wrap and create a style that's all your own. You can also use a variety of scarves and patterns.
If you want, you can go to craft shops or markets to purchase a pattern and length of your choice. In addition to this, turbans and scarves can be put on in about 5 minutes or less. Depending on the material, try to put on a satin bonnet* or scarf underneath to retain the moisture in your hair.
Bun/Updo
Buns are always my personal go to when my hair looks a mess. Simply take some gel or edge control and a brush and brush your hair up into a topknot.
If you have a few spare minutes, tie a scarf around your head just to lay the hairs down. Or, you can do other quick styles like halo braids or flat twists leading back into a bun or pinned look. This is also a style that can take 10 minutes or less and will hide any bad hair day.
Hat/Beanie
Hats are great for those quick 'on the go' type of days. You can either wear your hair down and wear the beanie on top, or you can flat twist/braid your hair and put everything under the hat.
Some naturals have been known to even run errands while deep conditioning* by putting on a shower cap* and then their hat.
Wigs*
Wigs* are another great alternative for when you have no idea what to do. They're awesome because you can totally become a different person in the span of five minutes or less.
Simply take your hair and place it in a few twists or braids. Put on a wig cap* to retain your moisture, and then put on the wig*, and you're ready to go! If you have u-part or partial wig*, leave out a few strands of hair from the front to blend.
Go Wild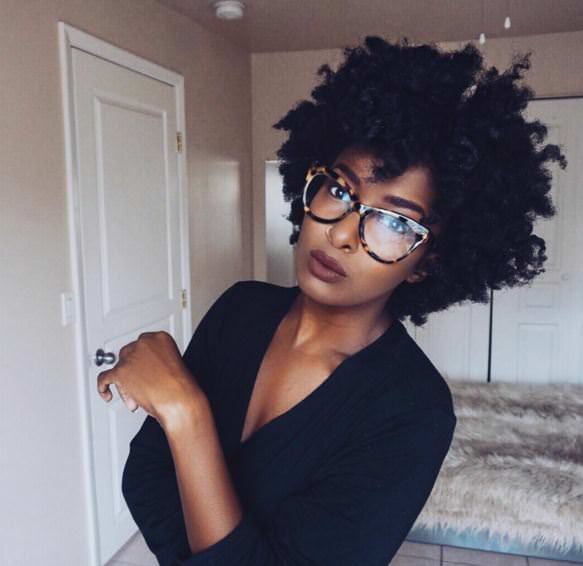 If you're really brave, you can just let your hair down and let it go wild! Use an afro pick to fluff out your mane and bring it to a glorious fro. If you have shoulder length hair or longer, you can also use pins to turn it into a bob.
Maintain a little curl definition by not running the afro pick all the way through your ends. This is great for when you're in a rush – when you get home and have time, you can do what you want to fix your hair the way you originally wanted. What's your favorite way to style your hair when it seems like you can't do anything else?