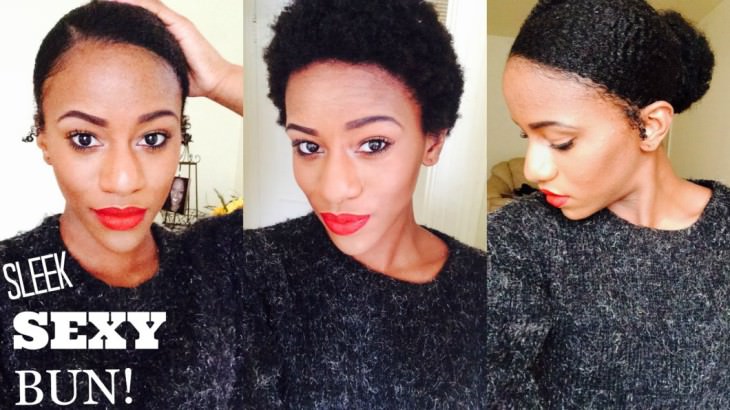 So let me get this straight: you have a TWA but you want to wear your hair in a bun? Well in this life, all things are possible, so keep reading. The key to doing this is to have a little bit of length on your TWA, maybe about 6- 12 months worth of growth so that you can get the back to at least form a ponytail with the help of a little gel or stretch.
In the video Traeh starts out on freshly washed and detangled hair and to create the style she used the following tools:
Pony tail holder
Gel with great hold
Loose braid hair
How to do it
Create a super sleek pony tail with the bottom half of your hair that can fit in a ponytail using gel and a soft bristle brush, keep separating sections of your hair using the rat tail comb* and gel and smooth it down flat against your hair in the direction of your pony tail. The point is to create the illusion of a full low ponytail by making sure your hair is smooth and set with the gel
You have the option of creating a side part which in my opinion makes things much easier to smooth down. Once you have everything smooth and set add a scarf to really set the hair.
Wait for 10 minutes, and your hair will be nice and flat. To make the bun you will need some hair that matches your hair texture, just add the hair to your pony tail and form the bun using bobby pins*.
Once you have everything all set just clean up the hair line, add a few tendrills if you want to and you are all done. We thought this was a pretty unique way to create a bun if you have a TWA. Watch the video for a visual and comment below and let us know what you think.