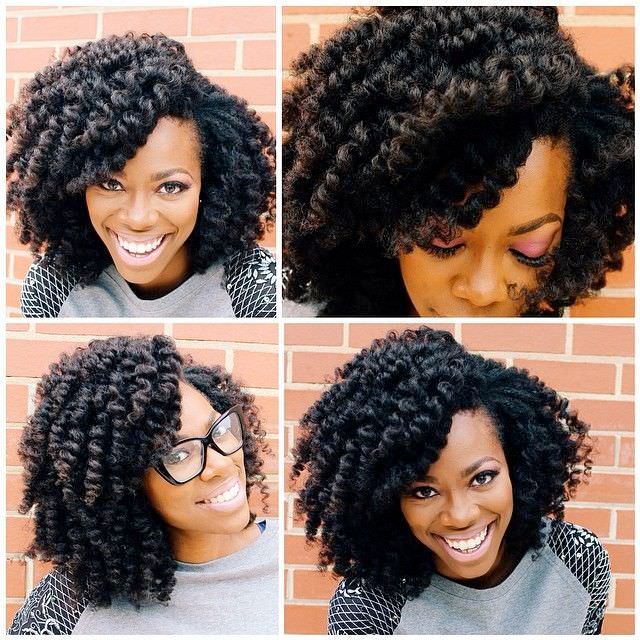 If you've been looking around Instagram and Pinterest lately, you've probably seen a couple ladies rocking crochet braids. Crochet braids are an excellent protective style and they're another alternative to a typical glue in or sew in weave.
However, there are girls out there like myself that don't have the time nor patience to sit down and braid our hair in preparation for crochet braids.
Fortunately, there's a solution for us- crochet wigs*. Crochet wigs* bring together the best of both worlds: you can protective style with the look of crochet braids while having the ease and versatility of wearing a wig*. You can either make a u-part, partial, or full crochet wig*.
What You Need:
Mesh Weave Cap
Crochet/ Latch Hook
4 Packs Marley Hair (or Cuban Twist Hair)
Mannequin head
Option One (Full Wig):
1. Comb out the extension hair to get rid of it's curl pattern. Use a pair of scissors to cut the hair in half (near the rubber band).
2. Grabbing small sections of hair, twist and wrap each section around a perm rod. Place your perm rods* into a bowl and pour in boiling water. Let the water set for 15 seconds before pouring it out of the bowl. Let the hair cool down for five minutes.
3. Remove hair from the perm rods and prep your mannequin head with the weave cap.
4. Push the latch hook through the mesh cap, loop extension hair in half and place it over the hook before pulling it through. Knot the hair to secure it.
Option Two (Partial Wig)
1. Repeat step one.
2. Attach the extension hair to the mesh cap BEFORE adding perm rods*. Follow the same steps to install as before.
3. Roll the perm rods up on a few strands of extension hair, but don't roll it all the way to the 'root'. As you can see in the video, this makes this much easier when blending the extension hair with your leave out.
4. Use a bobby pin to secure the front and sides of your partial wig. Blend your hair and add perm rods so that your curls have a uniform look. Remember to take the perm rods* out in a consistent manner so all of your curls look defined.
These crochet wigs are such a cool adaptation to regular crochet braids. They allow you to play with color, length, and curl size. Protect your hair underneath by placing them in braids or putting your hair into a bun and enjoy this protective style all winter!