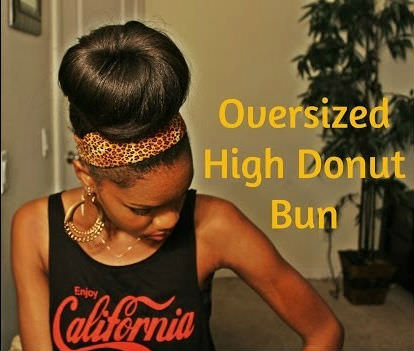 Sometimes a girl just wants a massive no end in sight kind of bun, and extensions can make that happen rather quickly. In the video I am about to share, one half of our favorite set of twins will use clip in* extensions to create a massive larger that life bun. She does it in two ways, a huge top knot and one off center and low.
Not only is this considered a protective style for your relaxed or straight natural hair, it looks pretty darn good too. This is the kind of thing you can wear out for a formal occasion or just casually to school or an evening out.
To be honest the cheapest way to go when it comes to clip in* extensions*, is to just make your own. All you will need to purchase are some extensions or cut an old wig* to make wefts, the clips and some weave thread to sew the clips on. Measure out your extensions according to the size of your head and get to sewing. One thing I noticed from purchasing clip ins* is that my head is usually much bigger than what the company imagines it to be, so I have to improvise.
When you make your own, you can measure your head and have the perfect fit every time. If you want to make some for a bun like the one in the tutorial, the size can be much smaller which means you will use less hair. Just play around with it and thank us later for the suggestion.
In terms of the bun we loved that she used her real hair to cover the extension hair when making the bun, this isn't necessary but a great touch. If you have short hair or you really want to protect your hair then just cover your own hair with the extensions* and do not worry about having your hair exposed.
Now enjoy the video: