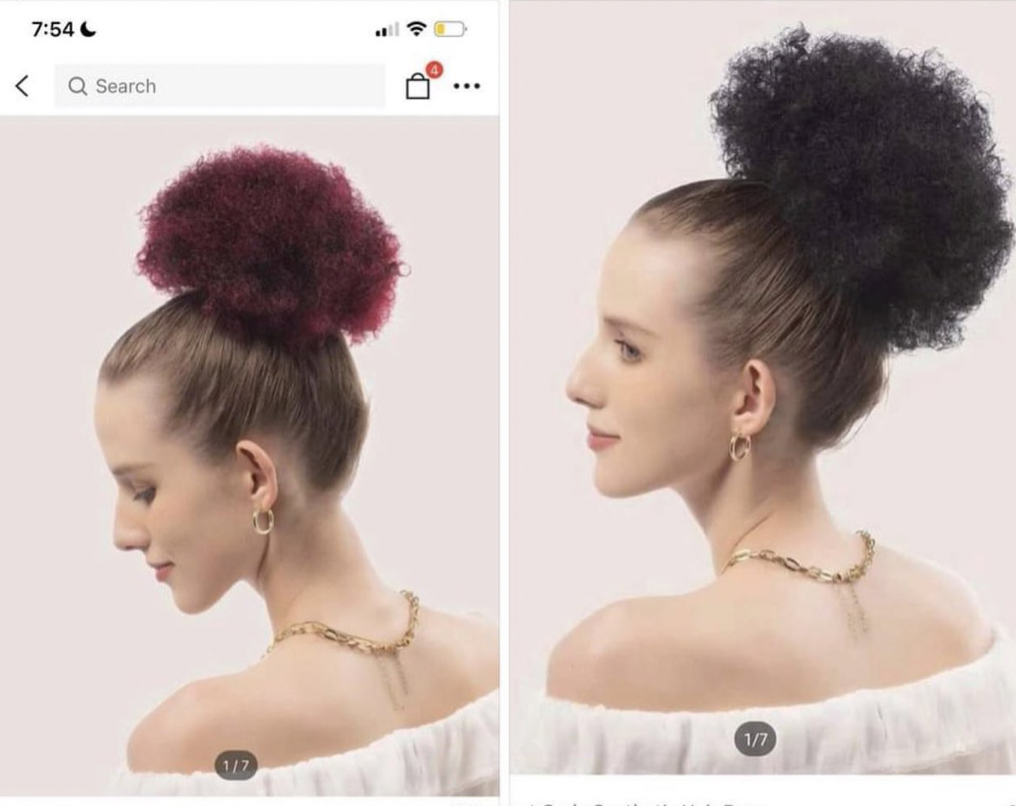 SHEIN is a popular clothing company that offers fast fashion items at an affordable price. Shein sells just about everything of which you can think. They sell clothes, jewelry, makeup, household items, school supplies, hair accessories, wigs*, and now afro puffs too. Social media was in a frenzy over the weekend after people discovered how Shein was promoting those afro puffs.
People on social media were not surprised that they were selling afro puffs for 6 USD. Oh no… they were more concerned that the woman modeling the afro puff was 'not black.'
Jessie Woo tweeted screenshots of a white woman modeling the afro buns in burgundy and black. She quoted the tweet saying 'SHEIN is selling Afro buns now. It is in their "period aah period ugh" section.'
SHEIN is selling Afro buns now.
It's in their "period aah period ugh" section. pic.twitter.com/Qeu4BEZmzV

— MBali 💫 (@TheJessieWoo) September 17, 2022
The model is a Caucasian woman but 
afro puffs are synonymous with the Black community as the go to style. It is great for protective styling, lazy days or if you just want to look cute.
So why would they let her model it? There is no correlation between a white woman and the 'afro puff.' Before Shein had a chance to remove all of the photos, social media had done their due diligence and taken screenshots of the evidence. 

Many turned to social media to share their concerns about the brand and what they are promoting.
Tweets and Instagram comments were all asking the same questions which boiled down to why a white woman was used to model the style. They shared their concerns that these big brands are making money from black culture when they are not even black-owned or operated businesses. The tone-deaf nature of these images just reiterates the injustice that many models feel that they face in the industry where opportunities are rarely available for them.
I mean, how hard would it really have been for Shein to pick up a phone and call an agency to get an appropriate model for the item they were photographing that day? It would have been an appreciated few hours work for a black model. Instead, they got this random white woman to model items that will then be promoted to black women. Really?
And it's not like Shein doesn't know the target demographic for their wig* products. They sell other wigs* on their website that are catered to Black women. However, they are either modeled by a mannequin and/or a Black woman (see below).
The puff is known to be a signature style that is loved within the black community so again, why is a white woman modeling it?
It's not Shein's first rodeo in tomfoolery. They had been getting flack on social media over the years from black artists and designers who accused them of stealing designs.
They claimed that Shein stole their designs and concepts from their websites where they were trying to make a living from their creations.
Unfortunately, Shein being the massive company that it is, are able to price the artists out of the market as they are able to produce the items in bulk and sell them to customers at rock bottom prices. This is something the average independent artist or designer cannot do. When these designers confront Shein about their designs, they are met with mostly silence.
As a community, we should be considering if we should gatekeep our culture from brands whose sole aim is cultural appropriation to make a quick buck. They are here to make money without any respect or reverence for the culture and it's disgraceful. Yet how many of us will see that afro puff for just $6 and hit "Add to cart" without a thought.
Of course, shortly after the social media call-outs, they quickly took the pictures down with no word of apology. Can't say I'm surprised…