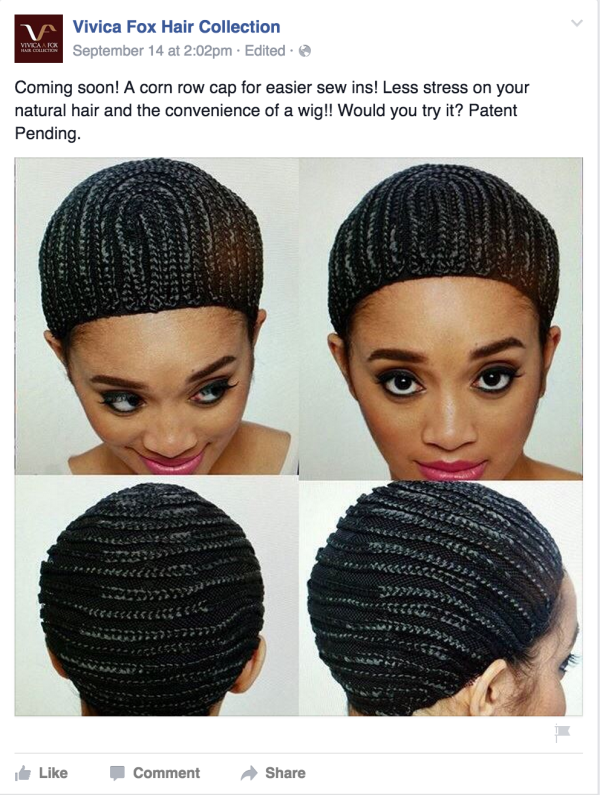 Vivica A Fox recently announced that she created a solution that gives your edges a break when you wear a wig* or weave.
Typically we would cornrow our own hair to make it easier for us to put on a wig cap* and then a wig* or as a base for a weave. With this solution the cornrows are already done for you, which leads to the question, what about your own hair?
I will not pretend to have understood the premise behind this invention right off the bat. As a matter of fact I really tried to understand how in the world this would work for a girl like me with super thick hair.
On one hand I loved the idea of creating something that leads to less stress on the edges because we have seen so many women lose hair from tight weaves and bad protective style practices.
With that said, even though her advertisements do not focus on this, I would suggest that she market the corn row cap to women who do not have a ton of hair to cornrow or who have suffered some sort of hair loss and want to wear a weave.
There might be niche there that she can capitalize on for women who might want a custom solution and need cornrows to create it.
Here is the description from the Vivica Fox Hair Collection FB page:
1.Features 2 Cornrow Patterns: Horseshoe and Straightback
2. Comes in S, M and L – and molds to your head for a secure fit!
3. Originally designed for Cancer patients, the caps are also perfect for short hair, weave caps, sew ins, crotchet and interlocking.
4. The Cornrow Cap is also Patented by the Vivica Fox Hair Collection!
In my opinion if they stuck with the cancer patients angle this could possibly be a great option and have less of gimmicky feel that most of her supporters are suggesting.
Would you purchase this cornrow cap?