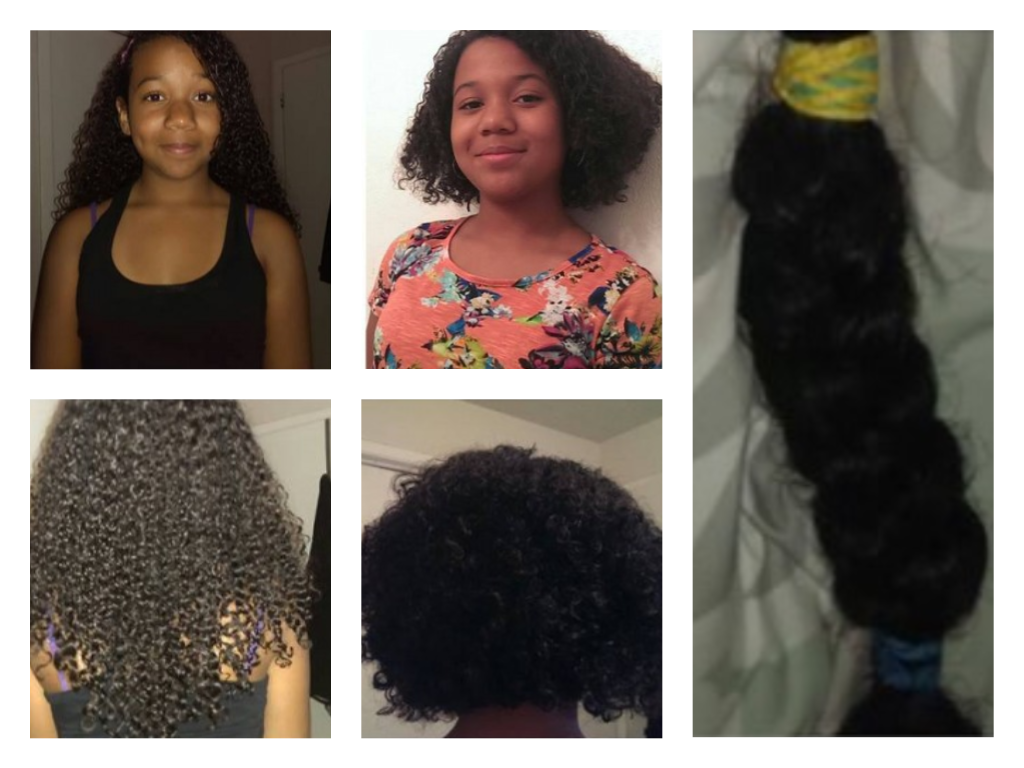 Content:
Organizations To Donate To

Locks Of Love
Dreadlocks Of Love
Pantene Beautiful Lengths
Children With Hair Loss (CWHL)
Hair Donation Ottawa
Wigs 4 Kids
Wigs For Kids
Hair We Share
Pink Heart Funds
Any d'Avray
Haar Wensen
Matter Of Trust
Hair donation has been a thing for a while in some cultures. I've noticed a growing number of people in the black hair communitya are interested in donating their hair but not sure what organizations have a good enough reputation for them to donate to. It's part of the reason that I've had a conviction to write about donating hair for a couple weeks now, especially since Meechy Monroe's transition from this life, she too had donated her beautiful hair.
The other reason I feel this post is relevant is that as the natural hair community grows and we become awakened to the diversity of beauty within our community, it can become easy for us to be self-absorbed.
To be honest, when we talk about hair, it's often directed to those of us who actually have hair and the capacity to grow some, hardly ever at those who for reasons beyond their control, are unable to grow out their own hair and revel in the experience that we get from experimenting with and learning about our hair. It can be easy to forget that for some there is no choice.
In this post, we look at organizations that make it easier for us to donate our hair if we so wish. This may not be for everyone, and there is no shame in that. We understand that it took great sacrifice for some to attain the length they have in growing and retaining the health and length of their hair.
But I am willing to bet that there are some Edward Scissor Hands among us, some who have become a bit bored with long hair and are looking for a change to go through the entire process of growing it out again now that we all know that black hair does in fact grow long. So when you next decide that you want a short crop, don't just throw your hair away, donate it instead!
The Basics Of Hair Donation
Organizations that are in the business of taking hair donation usually have rules specific to them and the purpose of their organization. One should always check the rules and follow them exactly. Here are some of the basics:
Ensure that your hair can be used by the organization you wish to donate to because not all hair is accepted in all organizations. Usually, if the hair is overprocessed, even if it is long, it cannot be used in a wig since it won't hold up under the pressure it will go through.
Virgin hair is best. Most prefer that the hair hasn't been manipulated too much especially where heat styling is concerned. If you like to straighten your hair, you may not be a good candidate for some organizations. This is because heat styling can make the hair more porous. Hair that is bleached is usually rejected as well.
Hair should be packed in a ponytail, preferably in a braid secured by a hair tie. This is especially so for our hair type since our hair is so prone to tangling and coils up so easily. Also, it helps to ensure that you cut the correct measurement. Another reason it is best to secure the hair is that it is always best to have every strand trained in the direction that the hair grows so that you don't end up with a wig* with hair turned the wrong way which would result in lifted cuticles when it is styled.
Hair must be washed and dried but no conditioner or product of any kind must be applied to it. We or damp hair will grow mold based on the conditions in shipment.
Curly hair should be stretched before you make the cut.
You can mail the hair to most organizations.
It is important to note that a natural hair wig costs anywhere from $3500-$6000 and it takes 6-10 ponytails to make one wig. Now that you've got some of the basics out of the way, let us look at some of the organizations that either give the hair to a wig* bank or have wig banks of their own that provide wigs to those in need.
Organizations To Donate To
Locks Of Love
For those of you already in the know, you might have heard about Locks of Love. It is one of the most popular places to donate hair and they have been in operation since 1997. This is where Meechy donated her hair.
They got a bad rap some time back because an audit revealed that they didn't use up to 80% of the hair donated. The explanation for this was that some persons donating don't follow the rules and so the hair could not be used.
For instance, based on how the hair was treated, it became moldy by the time it got to them and who wants a mold in their hair? Another criticism is that they charge the recipients of the hair; however, in response, representatives said that they ask that those who can afford to do so, make a contribution.
Now that that's out of the way, we can look at what makes them a part of this list. Locks of Love provides custom made wigs* to children suffering from hair-loss as a result of alopecia because of terminal illnesses. The wigs* they make are done to the specifications of the child who will get them; hence, they color, cut and style it to the child's preference.
They also ensure that the measurement of the wig fits the measurement of the child's head so that the wig will fit naturally and not be able to come off easily. They are in all 50 states across the U.S and they are also in Canada.
Their website can be found here: http://www.locksoflove.org/