We are well into the year and now that the hangovers and questionable party hair are just a blurry memory, there is a subject that I would like to address that had very little column space last year. Curly Perms.
Before you run away from this post without reading I would just like to be clear that by curly perms, I don't mean Jheri curl! I wasn't around in the 70's but like you I've watched Coming To America so I am well aware of the hilarity surrounding the upkeep of the style, I mean people seriously slept in shower caps* to avoid staining their pillows?
I am in fact talking about the dry curls produced by Wave Noveau, Leisure Curl or other more modern processes. As a side note, the jheri curl was invented by hairstylist Robert William Redding (Jheri Redding) who later went on to co-found the Nexxus and Redken hair companies!
Now on to the 'meat' of the article. Well first off the permanent wave and relaxers are completely different chemical processes and you can't switch between them. That's to say that you can only ever do a curly perm on 100% virgin unprocessed hair and the same goes for a relaxer.
By now I'm sure you already know that relaxers are done with either lye the active chemical being sodium hydroxide or no lye whose chemical is usually calcium hydroxide or guanidine hydroxide. Even though many people use the term 'perm' when they mean relaxers, they are in fact very different processes. Curly perms are done using a chemical called ammonium thioglycolate often shortened to thio. Thio is gentler on hair than lye or no lye relaxers and is often used in chemical hair texturizers.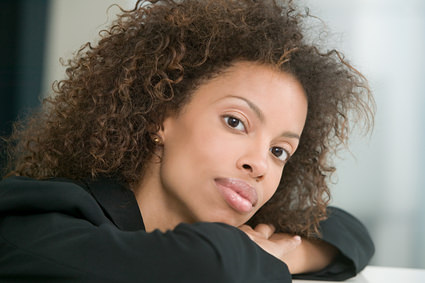 Unlike permanent waving Caucasian or Asian hair, which involves adding curl to already straight hair, the process of waving Afro textured hair is twofold. First the thio based chemical is applied to remove the natural curl then rinsed off.
The damp hair is then set in perm rods* and a waving solution also called a reshaping lotion is applied to set the hair in it's new shape. This is then rinsed off and neutralized. Odd as it sounds, the neutralizer which works by a process called oxidation is actually the harshest phase of the process!
Because of the two distinct chemicals applied during permanent waving, it is often referred to as a double processed style. As such black hair tends to experience excessive breakage after a curly perm, although this depends a lot on the skill of your stylist and your commitment to properly caring for the style.
A stylist called Gina Rivera from Connecticut seeing the shortfalls of the traditional route of waving black hair came up with a way to avoid double processing the hair, a method that she's dubbed 'The Gina Curl'.