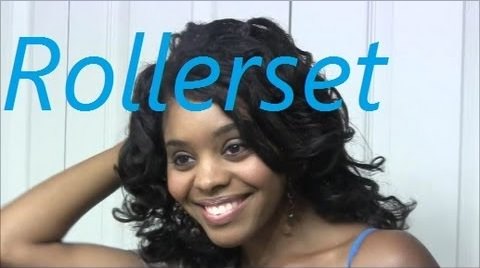 How many Saturdays or Friday evenings did you run to the salon to get a roller set for the weekend? While my hair was relaxed I had a 9am standing appointment at my hair dressers house, my mom would go with me sometimes and we would chat and laugh all the while growing tired of being there, and glad to get it over with once it was done.
Now that I am natural, those are fond memories but I have no desire to relive it, at least not on a weekly basis. Roller setting my hair now requires a lot of patience but as I practiced there are some things I perfected and learned making each experience easier and easier; for example I cannot roller set my hair if it is tangled in any way.
Tangles often lead to quitting in the middle of the process and bidding adieu to the rollers until I felt like looking at them again. If you can find your stride with roller setting you will discover that there are many benefits to this old fashioned style, the number one being that it can be a healthy way to stretch your curls without the direct heat of a flat iron*. Other benefits are that the style lasts for days, it is great for holiday hair and you get to enjoy your length, somewhat.
There are some tips that we must point out that can be considered critical to a successful roller set.
1. Load up on the moisture – Make sure your hair is thoroughly moisturized before adding your styling agents so that you are able to maintain that moisture for the length of time you decide to wear your style.
2. Detangle – Section your hair in workable sections and detangle each one completely so that you have a smooth finish.
3. Use holding products – Use some kind of styling agent to help keep the hair smooth and tangle free. Setting lotion is popular but your can also use gel or a light holding cream which just keeps your hair in place and performing the way you want it to.
4. Use the proper tools – The reason we tend to use magnetic rollers* more often than other types is because the plastic allows the hair to stick to it when wet, hence the name 'magnetic'. For best results we would suggest using that type of roller. Other great tools include a denman brush*, a rat tail comb*, and roller clips* to keep them in place as you set your hair
5. Set the bar – If you have the proper foundation for your hair there is no need to add oils* or anything to your hair as your wear the style daily. What this means is make sure your hair is clarified, conditioned, deep conditioned and moisturized before adding your rollers.
With that said, below we have a start to finish demonstration on how to do a roller set from YouTuber Blessedtresses, check it out.
Have you tried a roller set? If so what has been your experience we would love to hear!