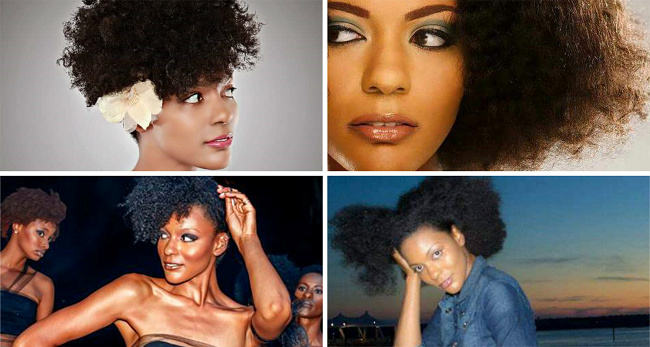 Social media can be many things, it can be a place for laughs, a place for tears, a place for friends, and a place for meeting creative and interesting people.
Cyrene Renee and I shared virtual laughs in an awesome pop culture, fashion group on Facebook, and like any great social media relationship we "friended" each other on Facebook.
Somewhere In between her posts about birthday cupcakes and "hastag #dinner", I quickly realized,
1. Cyrene is a model,
2. She and her hair are absolutely gorgeous
3. She served our country and
4. We must, we must learn more about her on BHI.
So here we are, Cyrene discussed everything from modeling, to breaking into the industry to natural hair, check it out:
1. How did you get started in the modeling business?
I began modeling about 3 years ago. It's something I have always wanted to do, but with family and military obligations I didn't have the time to pursue it. I am so glad I went out on that limb and took a chance.
2. What kind of modeling do you do and which is your favorite?
I started out as a runway model. I also do print/editorial, promotional modeling. Runway has my heart. I really do enjoy fashion shows.
I don't see anyone one the runway. It's all tunnel vision. Just God, me and a heart beat. I practice with and without music. I don't even hear that out there to be honest. Print work is a very close and strong second.
3. How did you feel when you did your first ever fashion show or photo shoot?
My first fashion show was DC Fashion Week in 2012. I was selected to walk in 3 shows for the week. The audition process was very long and I had nothing to compare it to. I was extremely nervous. I just said a simple prayer and said to myself I can do this.
4. Does your hair get in the way of your modeling career?
To be honest my natural hair has opened doors in the modeling world that I didn't see coming. For some designers and shows that I work with and walk in it is a requirement.
It's such a nice change of pace from what is considered the "beauty standard". However, in most cases I will have to do my own hair for shows and shoots.
Not everyone is equipped with styling natural hair. I wish the hair stylists would get to know our hair and all the beauty it encompasses.
What is your natural hair regimen like?
My hair regimen is simple. During the warmer months I co-wash often. I only shampoo if I go to the pool or beach. After the wash it I seal it with oil and style.
During the colder months I wash once or twice a week. Always washing it at night so it can dry while I sleep in braids or twists. I use little to no heat.
Once a month I'll do a hot oil treatment if I need to and it's a homemade mixture of equal parts of honey* and extra virgin olive oil*. If I feel oil or product build up I wash it with an apple cider vinegar* rinse.
Most of my products are homemade. The daily oil consists of extra virgin olive oil*, coconut oil*, jojoba oil*, vitamin E* oil and honey*. The shampoo and conditioner are all from the SheaMoisture brand, I really like their products and it works well with my hair.