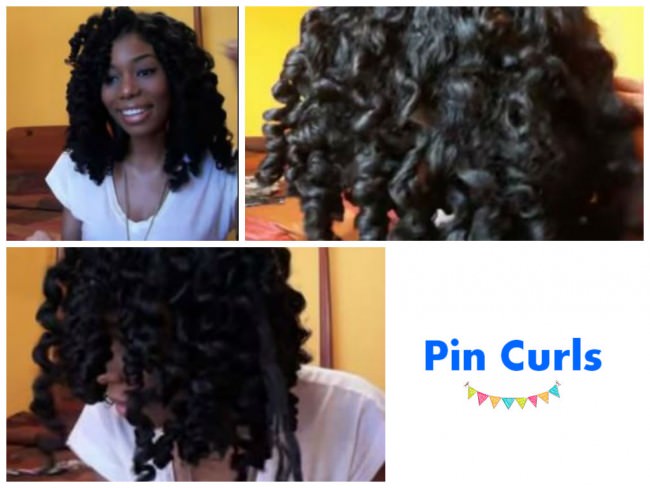 Pin curls have been around for ages! They are an effortless style for anybody, relaxed, natural, or transitioning. Pin curls are perfect for any stage of a hair journey and may be overlooked as a heat-less curling option for natural hair. Additionally this style can also blend two hair textures or bring temporary curls to relaxed hair and they are an excellent alternative to bantu knots.
This style doesn't require any heat, however a hair dryer* or hooded dryer* can be used to speed up the drying process. Once finished, curls will be soft and bouncy. What you will need:
►Leave in Conditioner*/ Styler
The silk scarf* helps to blend the edges with the rest of the hair as shown in the video. For natural hair this style is done best when hair is wet however, the wetter hair is, the longer it will take to dry. If attempting this style on dry hair, using a spray bottle filled with water that will dampen hair enough to make the style possible.
Hair should be sectioned off, to make pinning the hair easier and the hair should be sectioned off based on the size of the curls that your want. If the sections are large then the curls will be looser, however if the sections are smaller then the curls will be tighter.
Smaller sections will require more pins and longer install time but if you are looking for more length and less curl definition you should probably stick with larger sections.
Using a good leave in conditioner* for this style will ensure that curls are soft and bouncy once the pins are taken out. However, using a thicker styler may keep the curl definition for a longer period of time. If you decide to try this style with gel, it's important to make sure that not too much product is used. Following the gel with an oil or light moisturizer can keep hair soft.
The best part about pin curls is that they can be worn for any occasion, whether it's casual or not. These effortless curls can last for a few days, before your next wash, this is definitely an oldie but goodie style.
When was the last time you tried pin curls?