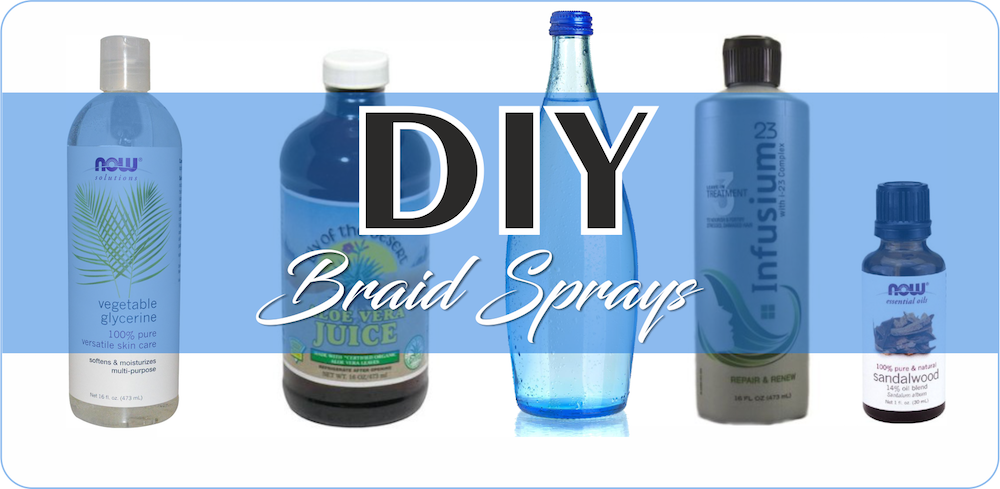 In the run up to our protective styling challenge which I hope that you will be joining us in, you may have noticed that we have been sharing quite a few articles that pertain to protective styling and maintenance.
These articles are to nudge you into deciding on which protective style you would like to choose and to help you with maintaining it for the duration of the challenge.
In among all the protective styling options I enjoy wearing braids and twists the most. Not least because they are easy enough to install but because you are not constantly manipulating, your hair remains protected and you retain length like crazy!
One of the biggest mistakes that ladies make when wearing braids or twists is not taking the time to maintain the moisture-protein balance in their hair for the duration of the style. This may not seem like a big deal, after all protected hair is protected hair right? Not really.
You see when you do a protective style without ensuring that your hair is effectively moisturized daily, it can and does lead to some serious breakage during take down. This is particularly evident in those who wear styles using synthetic extensions* which suck moisture away from your own hair leaving it drier than before.
You can certainly wash and deep condition your braids weekly using the method outlined in our micro braids article. Twists will be trickier to wash because there tends to be more potential for tangling when they are agitated so many ladies choose to just keep twist moisturized without actually washing them for the duration of the hairstyle.
Having a protective style however is no excuse to avoid your daily moisturization routine and this is where braid sprays come in.
I have used numerous braid sprays in the past with varying levels of success. Some I found contained way too much oil which led to build up and that gunky stuff at the base of the braid when taking them down. This as you know leads to matting which is not a good idea if length retention is your ultimate goal. Another thing is that I never found a braid spray that I liked the smell of so I was constantly on the lookout for something else.
As I always do when I can't find anything at my local BSS that exactly matches my needs, I find a way of hacking a solution from ingredients or a mix of products that I already have at home.
I can't believe that I haven't shared these recipes of mine with anyone until now but here are two easy but very effective home made braid sprays that I use when my hair is in protective styles:
pH Balanced Moisturizing Braid Spray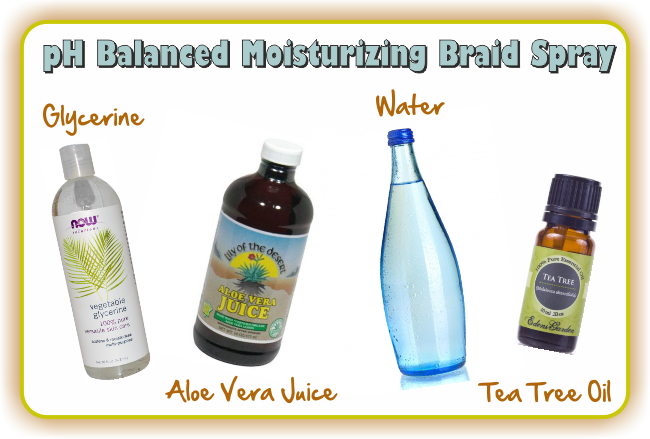 Ingredients:
1/2 cup vegetable glycerine
1 cup aloe vera juice
1 1/2 cups water
5 drops tea tree oil
I never actually measure my ingredients, I just do everything by eye but my final recipe comes to around 12 ounces or so. Just add all the ingredients into a spray bottle and shake to combine them. That's it!
This recipe is deceptively simple but it is loaded with moisture boosting properties. Glycerine* is a humectant that pulls water out of the atmosphere keeping your hair soft. Aloe vera juice* is wonderfully pH balanced which allows your cuticles to close thereby keeping the moisture in your hair for longer and the tea tree oil* with it's antimicrobial properties soothes the scalp keeping itchiness and dandruff at bay.
When in braids, I have always found that a focus on increased moisturization rather than the moisture and sealing method works better. Oils as you know will tend to cause build up pretty quickly so lightly misting your hair twice daily with this moisture boosting spray works pretty well at keeping your hair soft but build up away!
Protein Strengthening Braid Spray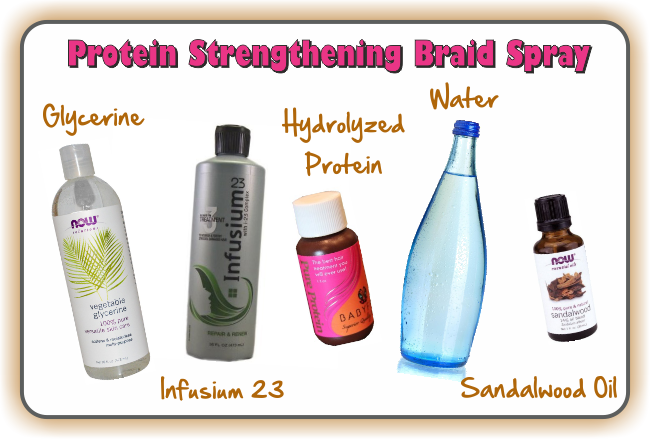 Ingredients:
1/2 cup vegetable glycerine
1/2 cup Infusium 23 leave in
1 1/2 cups water
2-3 drops hydrolyzed protein (optional)
5-8 drops Sandalwood essential oil (optional)
As with the previous recipe, just add all the ingredients into a spray bottle (I reuse old leave in conditioner* spray bottles) shake, shake, shake and it's done.
This is hands down my favorite braid spray and I use it liberally! The glycerine* and water provide the moisture for your hair and Infusium 23 leave in conditioner*, a favorite among us hair growers, is rich in amino acids which strengthens your hair.
I also like to add a few drops of pure hydrolyzed protein that I always have lying around. Please only use 2-3 drops of the hydrolyzed protein or else you risk your hair getting stiff. The recipe will work just as well without the extra protein so if you don't have any to hand don't worry. The Sandalwood essential oil* in this recipe is there just for fragrance, it smells wonderful!
So there you have it, these two braid sprays are very simple to make and they will serve all your needs while wearing braids or twists. Hand on heart I have not purchased a commercial braid spray since I created these two recipes almost 4 years ago!