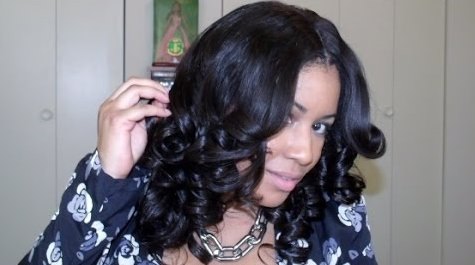 Lets face it: wearing a weave can be a pretty awesome protective style, and if you have made the investment and paid a pretty penny for your hair, you want the hair to last you a long time. Even if you decide to remove the hair, you should be able to use it again for your next install.
In the video below, Ebony roller sets her weave and gives us 3 reasons she thinks roller setting is a better choice for her. Ebony is transitioning, so a weave style gives her a short break as her hair grows out – which for us is a great reason to try to preserve the hair.
Here are 3 reasons you should roller set your weave:
1. Direct heat can break down your weave – If you have human hair, then just like your own hair, direct heat can cause heat damage causing the hair to appear dull and damaged. You want to protect the hair as much as you can by eliminating the use of hot tools, like curling irons*, wands and even flat irons*. Roller sets help to preserve the natural texture of the weave, keeping it healthy.
2. Roller sets will allow your actual hair to completely dry – When you wash your hair, your braids can stay wet for a long time, doing a roller set not only sets your weave but allows your braids to dry as well. Win win!
3. Roller sets curls last longer than curling iron* curls – Hands down roller set curls, with a really good setting lotion, last much longer than using a curling iron*. The setting lotion holds the curls and you won't have to use a curling iron* – just pin curl, sleep, wake up, shake and go!
Check out the video below as Ebony demonstrates how she uses rollers to curl her weave. Check it out, and let us know what your think:
What tips and tricks do you use to ensure that your weave lasts?