The other day we shared a video on FB where you could hear audio of QVC host Sandra Bennet making a negative remark about a model who happen to have natural hair.
Sandra and her guest were reviewing a Dooney & Bourke Handbag and as soon as the camera went to the model Sandra was heard saying:
You might look back and think, 'Why'd I wear my hair like that?' but you'll still like your purse.
Then her guest said:
That's right. You won't look at your hair in the picture – you'll look at your handbag.
Of course the video went viral pretty quickly. Many of us a bit outraged about what was said; as a result, QVC got into damage control mode pretty quickly.
Since then they have been apologizing profusely every chance they get. One of our own readers reached out and shared the apology they sent to her personally which essentially said the camera flashed to the model at the wrong time.
Sandra Bennett took to Twitter to say she was sorry for offending her viewers; she said she was not talking about the model. She later removed the tweets, but also referenced the incident on FB.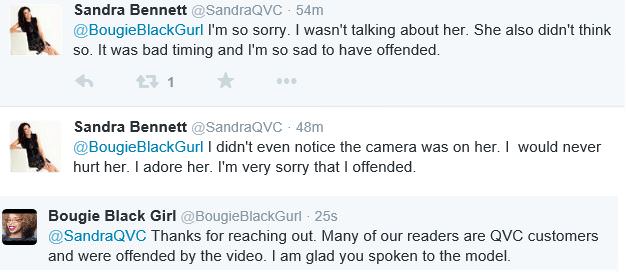 On FB she said the following:
Hi everyone. I want to apologize to anyone I offended during a recent Dooney & Bourke show. I made a comment along of the lines of when you carry a Dooney, you look good even if you don't do your hair. It was meant to be lighthearted, but in the middle of my comment, the camera cut to Michelle, an African American model.
Here is why I do not consider her apology credible: her own words were 'Why'd I wear my hair like that?'. What does 'that' mean? There was nobody else there! Was there a picture we just did not notice? Below is the orginal video; watch and judge for yourself.
Wouldn't it be interesting to hear what the model Michelle thinks?