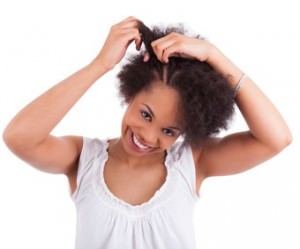 b. Reduce detangling and detangle gently – So this is an important one guys. Detangling is another make or break technique (literally) depending on how you go about detangling your hair and guess what? Did you know that every time you comb your hair, according to a study you are essentially giving yourself a micro trim? So if you are a more than-once-a-week detangler then this could be your culprit.
But if using a comb or brush can cause damage to my strands how do I get out those tangles that plague my hair? Through finger detangling my friend, through finger detangling.
Finger detangling is essentially just taking your fingers and running it through a small sections of your hair at a time, feeling out the tangles and gently pulling them apart.
c. Don't do more than you need to do with your hair – Yes, I said it. While we do have our product junkies out there (I can be one occasionally.. I ain't gonna lie), we also have technique- aholics.
You know those of us who have to oil rinse, caramel treat and tea rinse all in one wash session? Yea, you will definitely have a problem especially when it comes to retaining length.
Most of the time all we really need is a wash, deep condition, moisture, sealing, and styling, with a co-wash added every now and then.
If that routine doesn't work then maybe try new products in your regimen, such as a different DC or shampoo, and if that does not work then you can bring in new techniques to aid with your hair regimen.
2. Step up your protective styling
While there are some exceptions to this rule, most of us can agree that protective styling is extremely important to get us over many plateaus. No I know what some of y'all are saying "I did not need to protective style to get to my length goals".
And this is probably true, but your hair type might be different from someone who may absolutely need to use protective styling. For example, you might have thick strands that can handle "out"styles forever while someone else needs to wear buns most of the time to retain. So with that said…
What are good protective styles to wear to retain length?
► Wigs*
► Weaves
► Buns
►Braid/Twists Extensions*
► Tucked in Cornrows