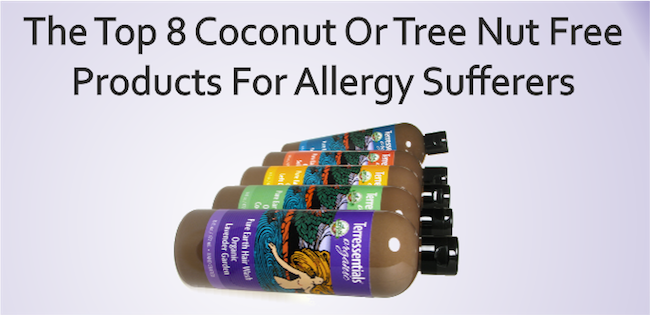 Not everyone can tolerate coconut or tree nuts some of us are actually allergic and deviate from it. Being allergic to coconut is extremely rare but it can and does happen.
Tree nut allergies are on the rise and can affect those with eczema but being allergic to coconut oil* does not mean you are allergic to all tree nuts. It also doesn't mean you cannot tolerate other tree nuts.
To the FDA coconut is a tree nut but botanically speaking, coconuts are closely related to other palms and betel nuts. Because the FDA considers coconut a tree nut food, products that include coconut will have a label stating that they include tree nuts.
Coconut is present in many foods as a derivative like coconut* oil, sugar cream milk, milk powder and water. You will also find many coconut-derived ingredients in soaps and shampoos so become a label detective is crucial you find you suffer from skin sensitivity to coconut oil* that's also known as contact allergic dermatitis.
It's not that easy to find hair products that don't have coconut or a derivative of it…I mean REALLY HARD, but I have a list of the 8 products out there that are coconut or tree nut free.
Shampoos
Curly Hair Solutions Treatment Shampoo
Strengthen your strands' elasticity with a concentrate of Panthenol and magnesium* in this generous amount of ingredients that will rebuild your chemically damaged tresses.
Silk amino acids will soften and help to repair even the roughest hair cuticle. This is a silicone, nut and coconut free shampoo that is great for all hair types! "Yes absolutely, our products are coconut and tree nut free".states Curly Hair Solutions Customer Service. Yes, that means the entire line!
Gluten-Free Savonnerie Shampoo
Salon-quality and containing pro-vitamin B5, this shampoo will leave your hair shiny, soft and more manageable than before.
It's a clear fragrance-free shampoo that's perfect for people living with Celiac Disease or multiple plant allergies. This has nothing but the good stuff which includes no peanuts or traditional tree nuts.
This shampoo does not contain coconut or coconut* oil; however it does contain an ingredient, disodium cocoamphodiacetate, which is synthesized from highly refined coconut oil or highly refined palm oil. This process removes most if not all of the coconut proteins that typically produce an allergic response.