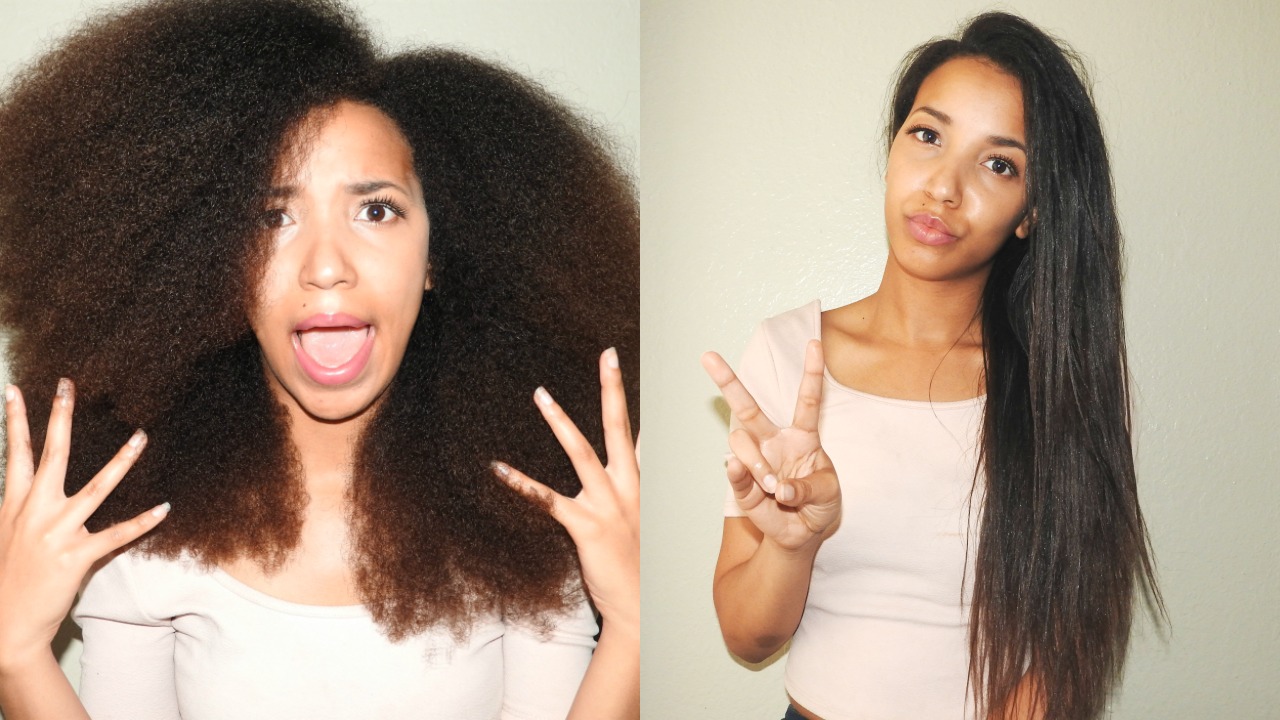 Contents:
So straightening hair is a sign of insecurity which indicates that you hate yourself? Well according to some in the natural hair community that is the diagnosis for those of us who enjoy straight styles. This is something that is still happening in 2017; people are being snubbed because they choose to temporarily alter their natural hair by straightening it.
I honestly can't understand how temporarily altering your hair texture makes you any less natural, but there are some in the community, who are all up in arms about what someone does with their own hair. What's up with that?
I get that there is a strong resurgence of black consciousness, and there are those who claim that altering the kink in your hair – albeit temporarily- is evidence that you are psychologically damaged and hate yourself.
While I can appreciate that our psychology is responsible to a great extent for the decisions we make, I cannot accept that everyone who straightens hair is self-hating; a 'Massa' worshipping person with the house slave mentality, seeking acceptance from Caucasians who have projected their own ideas of beauty onto us. I would love to believe, and dare say, there are those of us in the community who are very firm in who we are, have a strong sense of self, and love ourselves so much it may even be perceived to be narcissistic.
We are not saying that self-hating blacks don't exist, we just think it is a bit irresponsible to broad-brush everyone who enjoys straightening hair with that particular classification. So let's look at why many in the natural hair community may choose to straighten their hair.
Some Of Us Weren't Ready
Many of our mothers and grandmothers grew up in that era where the afro-textured hair was made out to be the badge of shame. In their ignorance and out of love – because they didn't want their babies to have anything that would make them stick out as targets for Caucasian ridicule- they routinely straightened our hair as soon as they thought we could bear the heat of a hot comb. It was either that or a relaxer or Jheri curls. For this reason, many of us grew up without any experience of dealing with our true texture.
Fast-forward decades later to this point and we decide we want to have our natural hair, but we didn't bargain on the challenges we would face when we became natural. Some saw the spiral curls of fellow black naturalistas and had unrealistic expectations that ours would look exactly like that of the natural hair icon on YouTube; then came disillusionment when we learned that it was not to be.
For someone with hardly any experience dealing with textured hair, this can be a bit overwhelming. It's not that such people hate themselves, it's just that they stick to what's easier. In fact, many have healthy tresses tucked away under straight weaves, all because of the convenience.