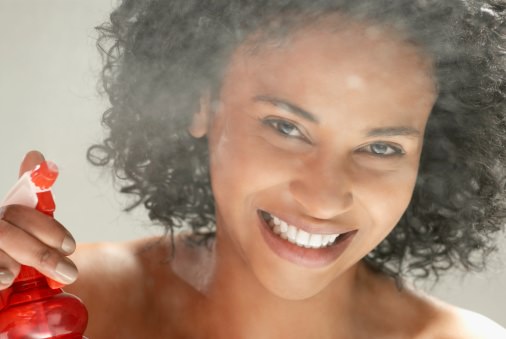 To get moisturized hair, you really don't have to spend all your money on those pricey products that claim to give your hair "the business". Whenever you need that refresher, look no further than your kitchen and refrigerator.
Buying just ingredients rather than whole products can last you much longer versus buying moisturizing products that come in small amounts, most of the time.
Moisture is key when it comes to retaining length, avoiding breakage or shedding, and keeping the hair soft so here are a few DIY Moisturizing sprays you can try:
1. Plain aloe vera juice
Fill a spray bottle up with COLD organic aloe vera juice from your refrigerator, and use it as a daily refresher/moisturizer for your hair. Aloe vera juice* contains proteins, amino acids, vitamins, and minerals that feed the hair strands making them strong and hydrated.
Not to mention it can be used as a great detangler as well. You can find organic aloe vera juice* at your supermarkets or Wal-mart, just make sure that is it 100% organic. When this hits your scalp, your scalp will feel so refreshed and cool, you can also add water if you like but that is completely optional.
Benefits of Aloe Vera:
Moisturizes the hair strands
Restores the hair
Gives hair its proper hydration
Conditions the hair strands
Prevents hair loss
Reduces oily strands
Regulates pH level of hair and scalp
Reduces dandruff
Closes the cuticles of the hair strand to lock in moisture
2. Distilled water mixed with your favorite oils
Here is where you can get creative when it comes to moisturizing your hair. Once you have found what oils your hair likes, they can be mixed together with water inside your spray bottle. So, grab your spray bottle fill it half way with distilled or purified water which is less harsh on the hair compared to your tap water.
Fill the rest of the bottle up with oils of your choice. Jojoba oil*, extra virgin olive oil*, sweet almond oil*, tea tree oil*, castor oil, coconut oil*, etc. Make sure your oils are organic. You can use as many or as little of these oils to your liking. Oil alone will not moisturize your hair so adding water will make the solution one of the best moisturizers for your hair.