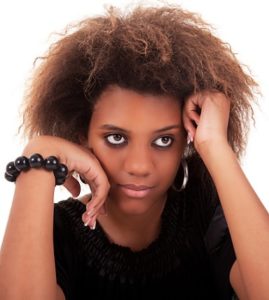 8. Dull Hair
Dull lifeless hair may be a surefire sign that your hair is severely dehydrated. It could also be that you have product buildup. In either case your hair is signalling that something is not quite right and needs to be fixed quickly.
9. Very Oily Hair Or Scalp

While sebum can be good for hair, too much can be a sign of seborrheic dermatitis, a condition characterized by overactive sebaceous glands.
Such a condition may worsen depending on the type of shampoo or topical treatment applied. If you find your scalp itches excessively, flakes, has soreness and dark spots then this may be the cause. On the other hand, it could be stress and anxiety that is causing the oily issue.
Recommendations
More often than not, a combination of these issues will be present rather than just one for those of you with distressed hair owing to the fact that they may have been overlooked for quite some time.
Perhaps because you didn't know they were that serious or because you thought that some quick fixes would address them. To start off with, you may want to get a hair analysis done by a good stylist so you can have a precise diagnosis specific to you.
► You can start by ensuring that you restore the pH balance of your hair. There are natural products that can address this such as Aloe Vera juice* or gel.
► Keep your hair hydrated using layering techniques like the LOC method to keep dryness at bay and deep condition often to keep the balance in check.
► Know your hair's porosity levels with this simple at home porosity test and follow recommendations depending on the results.
► A cleansing detox juice thrown into your regimen could help you restore the balance from the inside and create the right environment for healthy hair growth. There is a reason that some natural hair salons offer these as part of their offerings so take advantage of them.
► A weekly leave-in mask or conditioning your hair with a teaspoon or two of olive oil* added is good for smoothing the cuticle.
► Ensure that your diet provides the vitamins and minerals needed for overall wellness and your hair will be taken care of as well.
► Use heat protectant* when heat styling to protect your cuticle and keep heat use to a minimum.
► Trim off SSKk's, keep your hair moisturized and opt for stretched protective styles to guard against them.
► Use a protein rich conditioner to restore elasticity.
When all is said and done, prevention is the best answer for distressed hair so be good to your hair and health and you will keep these signs and symptoms at bay.