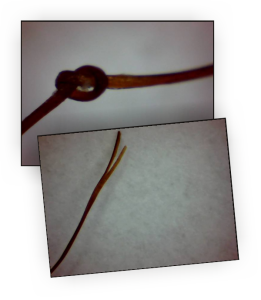 3. Single Strand Knots And Tangles
If you have a barrage of SSK's on every other strand the bells should be going off in your head. SSK's happen when your hair is overly attracted to itself as it bends and twirls onto itself.
They will usually occur in excess when your hair has been allowed to dry and shrink completely before styling. These knots often occur when hair is extremely dry, when you are not detangling enough or from rough handling.
4. Constant Breakage
Hair that breaks with each breath you take (hyperbole intended) is really bad news. Everyone experiences some degree of breakage without detriment to their overall hair journey but if your strands are popping on the regular it is a sign that your hair is weak and needs reconstructive repair to strengthen it.
5. Curls That Don't Bounce Back
This is an indicator that your hair has lost its elasticity, its vitality, its bounce and it is hanging on for dear life but barely.
This will most commonly occur due to overuse of heat tools or in some situations due to excessive manual stretching of the strands when braiding or twisting the hair often. The ends may appear limp or scraggly when you inspect the strands and they are easy to pop at this stage.
6. Color Fades Quickly Or Absorbs Too Fast

If you have a color retention issue this indicates a rather critical level of damage since it tends to stem from a porosity issue. This is something that a good color stylist will spot before applying color and recommend that nothing be done until your hair is back to health.
7. Itchiness And Shedding
It is normal to shed up to one hundred hairs daily but if the rate at which you are shedding increases significantly from your average rate then your scalp is distressed.
Unless you diagnose and attempt to solve the problem quickly you may end up with bald spots or thinning in some areas. In many cases excessive shedding is caused by scalp issues such as eczema, psoriasis or undue stress on the roots caused by manipulation during styling.
Think about how itchy your scalp sometimes feels after having your hair braided tightly. If shedding results from this and is left unchecked, it could lead to traction alopecia.