If you ever go to the Manhattan area, Union Square is a must see spot, from the park to the farmers market, and who am I kidding, the shopping and the FOOD!!
A couple of weekends ago in addition to all the wonderful things Union Square had to offer, the naturals were out in full glory. Yep that's what we are, we are naturals, a phenomenon to behold.
Women stood in Union square holding signs asking people to touch their hair, in the name of 'education'. The exhibit, yes exhibit was called 'You Can Touch My Hair" and social media exploded with pictures, commentary and opinions galore.
Well its no great surprise that I have an opinion too, and let me waste no time in sharing it: I am sorry but you absolutely CANNOT touch my hair.
Don't' get me wrong, I get the premise of the exhibit, at first it sounds like a really cool thing to do, stand in Union Square in an effort to start a conversation about black hair. So many people do not know about what it is that grows naturally out of our heads, and if they do know, they probably have not had the experience of touching it.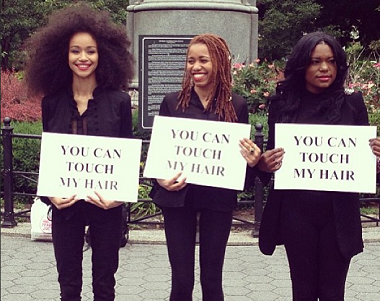 Then I thought about it some more, would I actually standing in the middle of a crowd with an open invitation to get head fondled by strangers? Am I a pet or some new unexplored fetish? At the end of the day when someone touches you and walks away what are they left with? What is the conversation like? Oh your hair feels like cotton candy! Errm, what then?
This is where the issue is, blogs, forums, social media conversations are all an effort to create a sense of "normal" for women who are not familiar with their natural hair after wearing a relaxer for so many years. There is also a valiant effort to help women get healthy when it comes to their hair which can be a universal thing, for natural, relaxed, black, white Hispanic or Chinese, we all want to be educated on healthy hair care practices.
In my opinion, when you create a spectacle you take away from what is considered normal, which is the ultimate goal. It is just plain weird to get randomly fondled whether you are a part of an exhibit or just walking down the street.