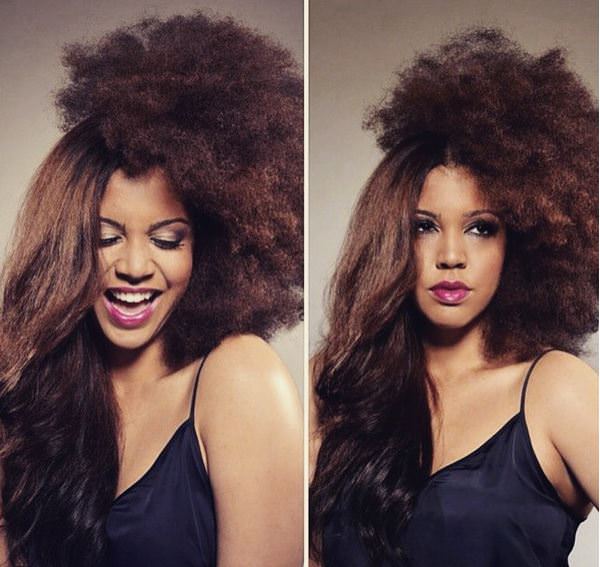 "Shrinkage is real." When I saw that phrase floating around social media before I made my journey to natural I didn't really think how it would affect my own strands. Maybe I should have known what I would be in for because of the stories my mother shared with me from my childhood.
Before I got my first "Just For Me" relaxer put in at the age of five, my mother said that she would fix my curls nicely for occasions, such as pictures, and by the end of the day my curls would have shriveled up to nothing. The Florida heat didn't help either.
But I unconsciously pushed this memory to the back of my mind and only revisited lately since I've been getting frustrated with my shrinkage.
I am almost two years into my natural journey and looking at my fro and comparing it to other 2 year naturals, I feel that it looks a lot shorter. "Is my hair not growing as fast as theirs?" I would ask myself. What's different with mine?!
Yes, I had a color fail at the start of my journey where I mistakingly double processed about 3 inches of my hair which later had to be chopped but I'm still wondering at how short my hair "looks".
I've attempted just about all the "stretching" techniques to no avail. Not to mention my wash n' gos don't really do my hair justice and leave me with an itty bitty TWA.
I recently decided to look at old photos as a way to examine the growth of my hair. While I can see advancement there is still the frustration of the fact that a twist out will end up drawn up and frizzed in the event any moisture or humidity comes into contact with it. *sigh* Joys of fine high porosity hair.
It wasn't until three nights ago when I randomly blew my hair out and could clearly see the tremendous growth. Grabbing a section of hair and stretching it down I could see that currently my hair almost reaches my shoulders. Most would never guess that by merely looking at my short fro. Hey I didn't even know that it did because I typically don't do "length checks" very often.