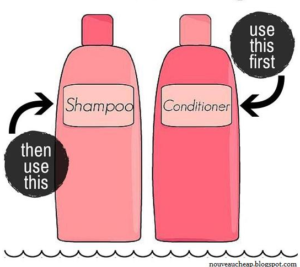 In winter, I was checking out Pinterest and I came across an article on reverse washing. It is basically going about your cleansing routine in the reverse order; condition first, then shampoo.
Immediately I thought, "This isn't anything new, it's just the same thing we refer to as pre-poo," except usually when we pre-poo we normally use an oil mix with a bit of conditioner and a host of stuff in our kitchen cabinet. After doing a little bit more research here is what I found:
Who Might Benefit From Reverse Washing
Reverse washing might benefit you if:
You have dry hair – It improves the feel of the hair (courtesy of the silicones and oils*) and allows you to lock in moisture and oils* into the hair before the shampoo starts stripping the hair (if you use sulfate shampoos)
You are prone to product build-up – usually when you wash and then add conditioner at the end, it may leave a residue that leaves your strands feeling heavy.
If you have fine strands – the process adds volume to the hair and makes it look fuller and shinier.
The Process
1. First, wet hair with water.
2. Apply your conditioner about an inch away from the scalp straight down to the tends.
3. Let the conditioner absorb for 3-5 minutes (coarser strands might need a longer time to absorb) then shampoo roots of your hair without first rinsing the conditioner.
4. Rinse and shampoo hair a second time.
5. Rinse shampoo again and you're done.
Reasons to Do It
1. It makes detangling easier
2. It offers cuticle protection
3. It adds volume
4. It makes hair appear healthier
5. It makes hair softer
So popular is this hair hack that it has reached the mainstream, as TRESemme has released a line of products the market as the 'Reverse System' and it is doing quite well at $5 a pop.
Persons who have used the system sing it's praises. People are cautioned not to try reverse washing with just any pair of shampoo and conditioner since the product may not be formulated to yield the results you seek (psst! I think this bit is just a marketing strategy to get us to only buy branded product that says 'reverse system').
Having tried this myself, I can attest to the added manageability and softer feel. My hair doesn't have that dry feeling I would get when doing the wash the typical way.
Of course, it is best to ensure you wash the right way when it's time to strip away the build-up at least once per month, otherwise the build-up overtime from the conditioner may mess up your porosity by causing cuticles to seal shut and repel water; which would mean thirsty hair that breaks.
Would you give reverse washing a go?