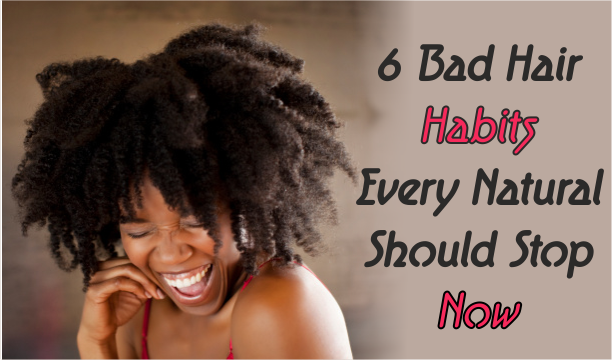 You are natural now and with this journey you are going to go through trials and errors you can't even imagine. You are excited that now your hair is creamy crack free then soon you realize that there is a multitude of methods, techniques, tools, products, regimens to making your natural journey work for you and to be successful at it.
If you go into it blindly you can easily become overwhelmed and feel in over your head. Before you start second rethinking your decision to come back natural let me make you aware of some mistakes you want to avoid. Avoiding these bad habits that many new naturals have will make your journey a lot more pleasurable. Trust me.
1. Going back to natural blindly
Would you go to an unfamiliar environment do you walk around with your eyes closed? Probably not. If you did chances are you are not going to make it very far or you will end up hurting yourself.
See coming back to natural as weird as this might sound will be an unfamiliar environment for you starting out. You don't know your natural nor do you know anything about being natural except the fact, you want to be natural again. Well, educate yourself!
Learn exactly what it means to be natural again. Define for yourself why you want to be natural again and build from there. Use that reason as your foundation for wanting to be you, naturally. Rely on books, articles, blogs or other written media that give you the insights about hair.
Notice I didn't say go to YouTube, which is sort of self-sabotaging because I have my own YouTube channel (Nappyfu). Don't get me wrong I recommend YouTube just not in the beginning of your journey because it is a cluster of naturals sharing their experience based on their own hair type.
Chances are it will not be anything like what you will experience with your own hair. Subconsciously you may expect the same outcome as the Youtuber and when it does not materialize you may become discouraged.
Many times I receive emails from my Nappyfu friends saying, "I followed everything I saw her do in the video down to the products and my results were horrible, I don't get it." You're not going to get it because you don't know "the why" of why it did not work for you.
Each step you do to your hair, every product you place on your hair, and every method you see others do has a DNA to it. If you are not a match for it, then it will fail.
This can all be avoided if you learn about hair from researched data, published articles, facts and concrete evidence.
You learn the what, when, why, and how of hair and all that it is associated with. So if you end up following a method you see on YouTube you will know what to do to make it work for your hair. If it doesn't you know why. Knowledge is power.
2. Not staying in your texture lane
Not trying to discriminate but this is for my type 4c ladies. Us kinky*, little, coily naturals who know damn well that curling creams are not going to curl a damn thing on our healthy hair.
Tools like the denman brush* are the devil. Be aware that to straighten our hair "without heat" will take several techniques, fasting and a prayer.
We hold a black card membership to the "High Shrinkage Club". Our hair doesn't clump and slick edges is a frenemy. Slick these edges? Where they do that at? Lol. Like seriously when I say stay in your texture lane, I mean have realistic expectations about your particular kinky* texture.
Don't do curly methods thinking you will get curly results. Reality check it doesn't work like that. We have the most intricate hair shape of all naturals and it's extremely combated and interconnected. Or kinky hair twists within itself.
You see curly hair bends and changes direction as it grows however, kinky hair also has a torsion twist where the hair strand itself twist on its axis. In other words it twists more with the twist. Which is why we usually get clouded results as opposed to clumps. Have you seen 4c hair under a microscope?
I am definitely the first one to look at other textures and use some of the methods I see used however, I already know what results to expect. If I use rollers my hair will not come out as straight as the girl with type 3c hair it will comes out a bit puffy and still show some of my natural texture.
If I use a gel to slick my edges down I know it's not going to last all day like the girl with type 4a hair. It's going to last 2.5 seconds, if that. Knowing your texture lane this way will ensure you have realistic expectations about what your results will be or how your hair will respond.