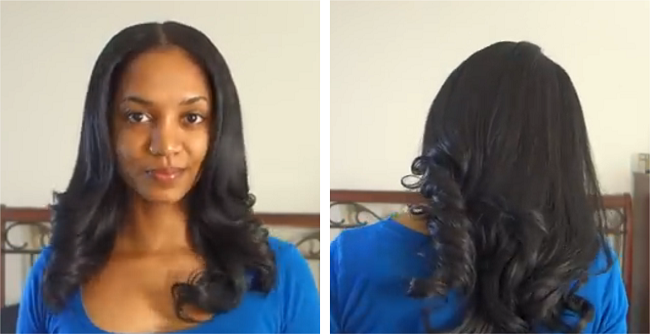 The Instyler is a pretty much curling iron* and a hair straightener all in one. In the below tutorial, my Jamaican friend in my head, Tina describes and shows how she uses it on her loose textured hair.
Tina has coarse thick strands, so even though she has a wavy hair it can withstand a bit more manipulation and heat than those with fine textured curlier strands.
I liked this video particularly because I watch her videos often and I have always wanted to know how she got her hair to look so sleek with the whole slight loose wave vibe she has going on.
If you decide to use the InStyler and you have natural hair, we would definitely advise to use heat protectant* and make sure your hair is thoroughly detangled. Do not use it on the highest heat setting to mitigate the possibility of heat damage and of course don't use it too often for the same reason.
The same thing definitely applies to relaxed hair, however what is most important is that if your hair is already damaged from heat, if it is shedding or breaking excessively we would advise that you avoid the InStyler or any heated tools all together.
Why women love the InStyler
1. Less likelihood of heat damage – It is designed to use less heat than a traditional flat iron*, making it 'healthier' for your hair.
2. It's fast – Like we mentioned, it is both straightens your hair and curls it all at the same time, so you basically cut down on the time you spend using direct heat.
Why women Hate the InStyler
1. It doesn't work well for all textures – Honestly if your hair is already straight-ish then it might work pretty well but for the kinky* curly among you it may not give you the desired results without too much manipulation resulting in breakage.
2. Not great for short hair – The barrel is pretty big and with that said if you are rocking short hair it might not work too well for you.
Why we are iffy on the InStyler
1. You have to be seriously ambidextrous – Honestly Tina makes it look easy but we imagine that with no way to protect your hands from that hot barrel, you better know what you are doing.
2. The reviews are way too mixed – Honestly if you read reviews on the InStyler you will find anything from the unit breaking apart to it not working at all when new. Essentially it is half and half on women who love it and others who do not care for it, we typically prefer to see the scale tip more to positive before wholeheartedly recommending it.
Check out Tina, demonstrating how she uses her favorite hair tool: