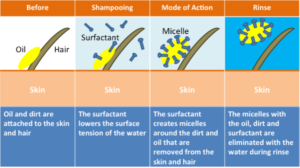 How do they work?
There is real science behind what a shampoo can do. They lower the surface tension of the water, making it less likely to stick to itself and able to bind with oils(affiliate link) and soiling particles.
Part of a detergent molecule is hydrophobic and the hydrocarbon portion of the molecule binds to the sebum coating hair, as well as to any oily styling products or what we call product build-up.
The surfacants or detergents in shampoos have a hydrophilic component so when you rinse your hair, the detergent is swept away by the water, carrying all the dirt, sebum, sweat, pollutants and product build-up away with it.
Why do we need shampoo?
The bottom line is shampoo is still an essential component of healthy hair care. You may use it sparingly, water it down, or use it every single time you wash your hair but removing it completely from your regimen may not be the best thing to do.
Sometimes we need to clarify if we have a ton of build-up, or you may have prolonged your washday or if you are working out more and want to ensure you are removing all the dirt, sweat and gunk. Whatever the reason, hitting the shampoo bottle every now and again cannot hurt even if you hate it. Try a sulfate-free one, water your's down or do a pre-poo to help it from stripping your hair.
Look, I hate shampoo with a passion because it creates tangles and removes all the oils(affiliate link) my hair need and love. But I also hate working out but know it is necessary to stay healthy and become fit. Sometimes you gotta suck it up and do what is best for yourself because in the long run it is necessary.
What different types of shampoos can we use?
It is no secret that naturals have changed the hair care market with our needs and honestly, it's about time! We matter and our needs are being met because our dollars are at work and being (finally) valued by manufacturers.
I truly believe that is why we are hearing about and seeing more variations of cleansers on the market for our tresses. Shampoos are not so one dimensional anymore and knowing what types there are and how they need to be used are essential in getting just the right product for your hair's needs.
There are regular, everyday liquid shampoos that most people use but did you know there were others that have meet specific needs? Here is a list of them.
Originally posted 2015-02-02 15:00:15.