Many find wearing protective styles a challenge due to scalp conditions that cause discomfort during warmer months.
Some have been so frustrated that they have turned to doctors to diagnose the cause of their scalp problems. Itchiness can lead to soreness, scalp abrasions and eventually hair loss.
Sebaceous Dermatitis seems to be the condition used frequently by physicians and dermatologists to describe dandruff, scalp pimples, hair loss, fungus and soreness.
Since many physicians choose to prescribe topical steroids, it sometimes helps to explore more natural alternatives for treating Sebaceous Dermatitis and other scalp conditions.
As a hairdresser I have become frustrated that so many clients have been given what seems a blanket diagnosis. In my practice it is not uncommon for us to try natural remedies on the clients with the highest sensitivity to packaged and manufactured treatments.
Many are sensitive to heavy oils, fragrances and glycerin so we often pick things that soothe the scalp and moisturize without leaving a film or heavy buildup.
After much experimentation only two things seem to work effectively both of which I want to discuss with you now.
1. Aloe Vera Juice – Applied using a spray bottle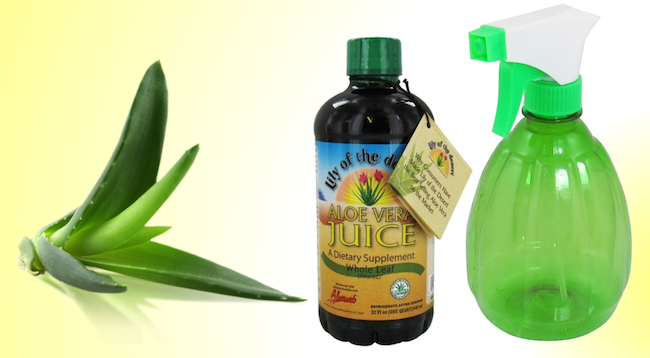 Why Aloe Vera?
"The natural enzyme found in Aloe Vera both soothes and moisturizes the scalp, helping to eliminate the dryness that causes dandruff. It also helps to increase blood circulation in the scalp, which works to stimulate the production of moisturizing oils*. Aloe Vera reduces the dry, itchy feeling that dandruff causes and heals the irritation caused by excessive scratching." – Aloevera.com
Aloe Vera also brings a refreshing and cooling sensation to the scalp which makes it ideal in hot humid weather.
The Aloe Vera juice can be used without being diluted and the spray bottle should be kept refrigerated.
I personally believe that the cool temperature enhances the soothing quality of the Aloe Vera juice*. The Aloe Vera juice* should be sprayed lighted between parts and lightly massaged into the scalp twice a day.