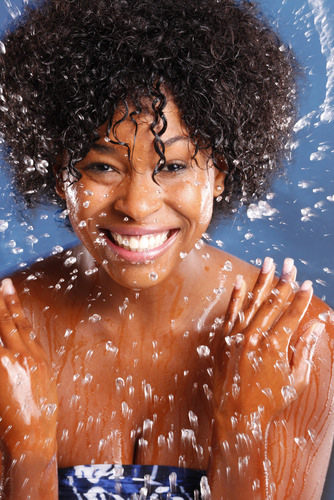 I have been seriously considering the resolutions for my hair journey this year. There are things that I learned last year that I will definitely take with me and then there are others I'm on the fence about.
We all have come to the realization that conditioning is a vital part of a hair care regimen. I have always heard about leaving in a little bit of your rinse out conditioner in your hair for a smoother finish since it keeps the cuticles laid.
Yet my thinking was that leave-in conditioners, actually formulated for that purpose, were the obvious options.
Still I found out that many ladies are opting to use rinse out conditioners as daily moisturizers and there are also those who may not moisturize daily, but opt not to rinse it out entirely on their wash day.
I became quite intrigued by this practice. In fact, I became interested with the consequences of the practice when I heard of ladies leaving in rinse out conditioners to help define their curls as part of a wash and go or to make hair more manageable aka the curly girl method.
My first impression was "Ooh chile your hair gonna fall out!"
What Is The Difference Between The Leave-In and Rinse Out Conditioner?
Rinse out conditioners are those formulated to be placed on the hair for a specific period of time after cleansing the hair, usually up to 30 minutes, after which they are rinsed out. They are usually of a thick or heavy consistency and contain fatty acids, surfactants and oils* to aid in softening hair for manageability.
On the other hand, leave-in conditioners are usually thinner or of a lighter consistency and can be left in the hair after a wash or applied when hair feels dry to alleviate the damage that can be done during styling.
Leave-in conditioners often contain glycerine* and humectants that assist in hydrating the hair or attracting moisture to the strands.
So back to the question is: Should conditioner be rinsed thoroughly or is it ok to leave a little in your hair? Well lovelies, it appears you can leave in rinse out conditioners… but hold your horses because it's bit is tricky. You cannot just go willy nilly piling on that rinse out conditioner without knowing a few things first.
You May Leave In Your Rinse Out Conditioner If:
► Silicones are not one of the first five ingredients in the product
If silicones form the base of the conditioner then it would mean that it would take heavy duty shampoos – often those with sulfates – to remove the build-up on the hair.
Now if you are a no poo kind of girl and you strictly cowash*, this would create some challenges for you namely dry brittle hair even with constant moisturization.
► It does not have high protein content – Many conditioners have hydrolyzed protein in their formulation. Daily application of these type of rinse out conditioners could contribute to protein overload which could result in hard or brittle hair which eventually breaks.
► The positive charge in the conditioner does not cause the negative charge of the shampoo to cause build-up on the hair – Without getting too technical, conditioners formulated to be rinsed out are usually one half of a cleansing system, with the shampoo being the other half. In essence, they balance each other so that each time you shampoo you ought to use the conditioner to balance out the effects the shampoo has on the hair.
If you go about applying the conditioner in a reversed order or with more frequency than you use the shampoo, chances are the balance will be disrupted. So now, you would have too much of one thing, essentially nullifying the effectiveness of the other.
In short, you run the risk of rendering your shampoo useless to rid your hair of the build-up caused by leaving in your conditioner. Now we know that build-up can make your hair look dull and lifeless as well as cause itchiness which is counterproductive to a healthy scalp, since you would be tempted to claw at your head.
Let's face it ladies, unless you are a scientist schooled in formulating cosmetics, you really have no time to try to figure out how many positive charges you apply to your hair and the negative charges you would need to balance things out, hence you would run the risk of subjecting your hair to build-up which would hamper the progress of your hair in the long run.
What You should Do Prior To Deciding to Leave In Your Conditioner
If you still insist on leaving in your rinse out conditioner:
1. Read the label before you proceed
2. Do not apply the product to your scalp
3. Choose a conditioner without proteins that is gentle enough to be used daily
Remember now, that there is such a thing as over conditioning the hair so when you opt to moisturize with a rinse out conditioner it may just do too good a job; however, if it has been working for you, do share your experience with us. After all, each one can teach one.