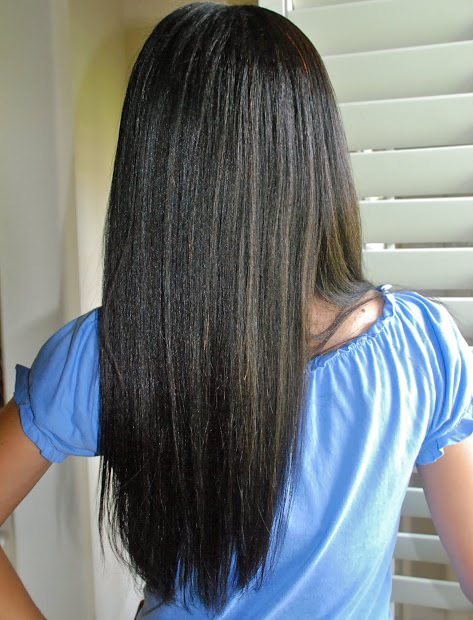 The length at which you choose to wear your hair is a personal choice often decided by lifestyle, age and sometimes even culture. But chances are that if your hair is chemically processed, for example, relaxed, then you are on a quest for longer more manageable hair.
Black hair in it's natural state is typically tightly curled and can be literally a pain to maintain. Although you can achieve length with natural black hair, it is a different route to take and the hair management requirements are quite distinct from relaxed hair.
The first thing to consider when relaxing your hair or when maintaining relaxed hair is the calibre of salon you use. The salon should have experienced stylists that knows and understands black hair; this is absolutely crucial because although black hair is tightly curled when it is natural it has varying textures, from fine to dense and resistant.
In order for a stylist to relax hair he/she must first identify the type of hair you have and also know the appropriate relaxer brand and relaxer strength to use. There are different relaxers for fine or resistant hair and using the wrong kind would lead to a disastrous outcome. In fact using the wrong product could not only damage your hair but could also damage your scalp and leave you with the direct opposite of your desired quest for long hair; your hair could fall out completely!
Having identified a credible salon and stylist, you must now consider the products you use to maintain your look between hair appointments. Again, ideally your stylist should guide you on what products to use and how frequently you should use them. There are a myriad products in the market place all promising to provide magical solutions for your hair; some hold promise for miracle growth, some promise shine and bounce, some aver to provide deep moisturising solutions and the list goes on. The fact remains that not all products work and some work for certain kinds of hair types and some work when used in a consistent combination. So please be sure to follow the advise of an experienced stylist.
Another point consider is the your expectations from your hair. Hair grows at an average of 1/2 and inch a month, of course this may vary with your diet, environment and your over all state of health, so you must be patient as it grows. Nurture it, eat a proper diet, stay hydrated and it is only a matter of time before you achieve lustrous long hair.