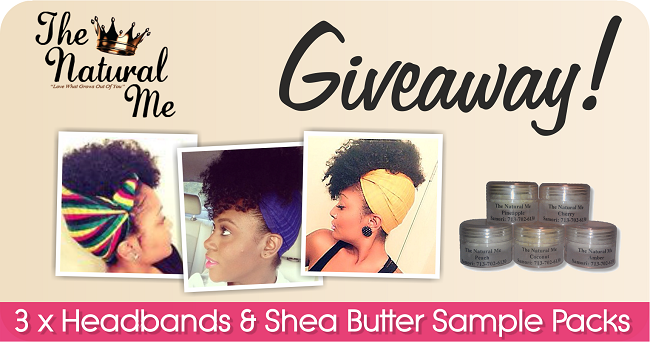 3 Winners!
Ok girls its giveaway time so listen up because this one is totally awesome. The giveaway is sponsored by a company called The Natural Me, which is family owned and based in Houston Texas. They specialize in creating rich exquisite Shea butters for hair and skin.
Here's the thing, these aren't just any ole Shea butter* mixes, we are talking about all natural hand crafted prepared butters with essential oils* and awesome scents like cherry, pineapple and peaches just to name a few. I don't know about you but it sounds amazing to walk around with my hair and skin smelling like sweet cherries on spa day Saturday.
The oils used to prepare the Shea Butters* are all ones we know and love that are great for our skin and hair. Common oils like olive oil*, Jojoba and Aloe Vera which are proven to be extremely healthy and a must have for anyone trying to build a beauty arsenal.
As if that isn't enough The Natural Me also have beautiful Headbands* that provide a variety of styling options and the colors are really amazing. Personally I like the one with the traditional rasta colors on the first model so for me that is a must have!
These head bands are the perfect get up and go accessory, and can be used for protective styling or just on those days when you want to hide a little something and show a little something.
Visit their website at www.thenaturalmeonline.com for more information and you can also follow them on instagram for styling ideas at @thenaturalme2011.
We have a few video testimonials that you can watch just in case you want to see demonstrations for styling the headbands or if you want to hear first hand on what other women think about their shea butters*.

Here's popular YouTuber Gabe showing us 3 ways with one of their headbands*:
And below is NaturallyGG reviewing one of their shea butters on a bantu knot out hairstyle.