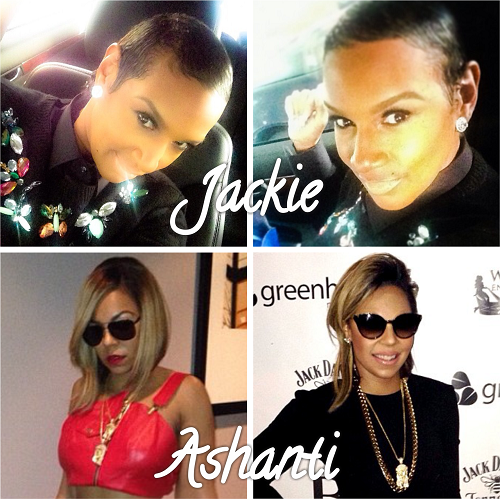 Don't you love it when you get a new look? You feel brand new, like you can conquer the world, like a boss (not bossy) while everyone has their eyes only on you. Well in the media two women have debuted new hair styles recently and they look very happy about it.
The first lady is Jackie Christie, you watch Basketball Wives right?…. no? Well if you don't, she is the HFIC of the Atlanta version of this 'popular' Television show and she is actually really married to ex basket ball player Doug Christie. We have to make this a point because most of these wives aren't really wives at all but again, that is whole other post and probably another blog.
Jackie is known for her long weaves, ponytails and everything in between but when she attended L.A Fashion week and on a few images on Instagram she debuted what appeared to be a her natural hair. She wore a short cropped boyish sleek style which really looked amazing on her and you could tell from the multiple angles of the cut that she posted, she sure felt glamorous with the short do too!
Moving on to Ashanti, she killed it on the Grammys red carpet with the blunt blonde cut that made waves that night. Well keeping with that trend she debuted a shorter cropped look on Instagram as she worked to promote her latest project Braveheart.
Personally I like the longer version of the style but I cant say I am mad at this look either, she looks amazing and it's obvious that she feels amazing as well. She captioned one of her pictures with the words "New moves to make". See how hair gets you inspired? *smile*
Well there you have it, two different women with two very different styles. The short crop makes Jackie look much younger don't you think?