Fall is officially here! And what does that mean for your hair? Hair regimens, products, and hair styles change. We put up the honey* and vegetable glycerin for heavier oils* and butters*. Our hair regimens and routines change to fit our hair needs for the cooler months.
We even put the wash and gos and other "just stepped out of the shower" styles back in our hair arsenal and pull out the low manipulation and protective styles. But what is the main style you see on Instagram, hair natural vlog channels, and the women at the work place? Rollers sets!
Roller sets are fun and bouncy in the fall breeze and shine in the warm-ish sun. They are perfect for a special occasion or just something simple for your daily style for work. They are also so easy to do at home to set right in your bathroom. Whether you are looking for the tight, spiral style or the long, voluminous style, the roller set is the main style for the Fall.
How do you know what type of roller to use?
I have seen many different kinds of roller sets everywhere to know that there are so many kinds of rollers to use. How do you know what is the right roller for your hair and the style that you want? Before you purchase a set of rollers, you need to understand what kind of rollers you should use for what roller set you what to achieve. Well, we got you! Here is a list of different types of rollers for specific curly styles:
Types of Rollers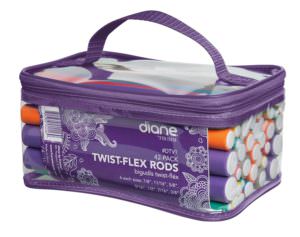 Flexi rods or hair twirlers are long, flexible cushioned rods used for elongating the hair to create long spiral curls. It is best to set flexi rods* on damp hair for a longer, lasting curl. Without the use of pins or clips to secure, the rods can be set and bent to stay in the hair. See some results here.
Perm rods or cold wave rods are used to create a curly perm or curly afro style. In other words, they give a nice, tight curl. You can set on damp or dry hair to achieve the desired curl. Perm rods* are secured with a rubber band clip. See some results here.
Magnetic rollers are smooth cylinders that have ventilation holes and secured with a snap-on clip. They are used to set on wet hair that sticks to the roller, hence the term "magnetic." Creating a smooth curl and volume to the hair, magnetic rollers* will offer a long lasting curl. See some results here.