Velcro rollers have a prickly surface that help hold the hair on the roller. They do not need a clip to stay in place. They can be used on damp or dry hair, which are great for short and fine hair. Creating a soft curl and full body, velcro rollers can really enhance the volume of your hair. Still these ones have the capability to be quite harsh on your hair so avoid them if you have fine strands.
Foam or sponge rollers give the best curl to fragile and delicate hair. They are best to use on dry hair when setting your curly set. Foam rollers have a built in clip that close over to snap them into place. They are gentle on your hair, soft enough to sleep on, and even easy to use to do a curly set for little girls. See some results here.
Brush rollers also have a prickly surface to help the hair hold on the roller. But they can damage the hair and are really not recommended to use for most types of hair. Hairs can break off easily when using and can cause unwanted split ends as well.
Plastic mesh rollers are best to use on wet hair. Since the rollers are made of mesh, they help the hair to dry quickly. Plastic mesh rollers create beautifully smooth and bouncy curls.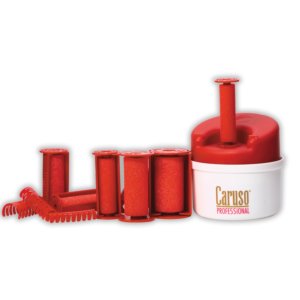 Hot and steam rollers are used on dry hair to create long, lasting curls and minimize frizz as well. They have an electrical base that heats the rollers up as well. Hot rollers are ready to use right away, which heats at the core of each metallic curler. While using on dry hair, you would need to make sure the ends of each section of hair are tucked in for a smooth curl. Steam rollers use moisture to lock in the curls. As the steam cools when setting the hair, it will evaporate and moisturize the hair, which leaves your tresses soft and shiny. They also tend to last longer than hot rollers.
Curlformers – It would be difficult to mention all the different types of rollers without including the very popular curlformers* and other unbranded copycat products. They create wonderful bouncy smooth curls, much the same a flexi rods* and are suitable for all hair types. See some results here
Now that you know the different kinds of rollers and which would be best for your hair, following is a complete guide on how to set your hair with your specific roller of choice:
1. Depending on the type of roller you are using, start on freshly washed damp or dry detangled hair. Section your hair in workable sections that are easy for you.
2. Apply your hair product (setting lotion, serum, curling cream, heat activating spray, etc.) to that section of hair. Apply each roller to the appropriate sized sections to the rollers you are using.
3. Once you have set your rollers in your hair, allow to air dry or use a hooded dryer*.
4. When your set is completely dry, style your hair as desired with accessories and pins.
5. Use a bonnet to protect your hair at night or pull you hair in a pineapple and sleep on a satin pillow case.
And there you have it! A complete and simple guide of the different kinds of rollers to use and just how to use them. Just remember that setting your hair with rollers are a better and safer choice to use than your hot tools. They give a longer, lasting curl, you will get more volume to your style, and less damage on your tresses. Make sure you use the right hair product for roller set to stay fresh and beautiful for this Fall weather.