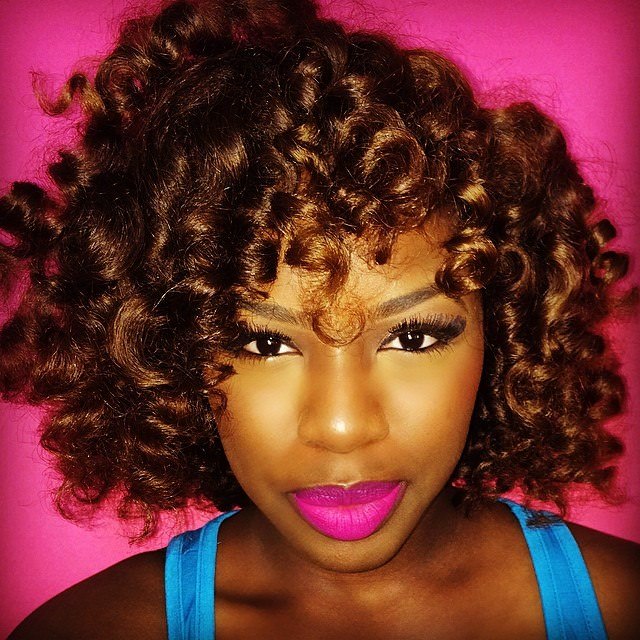 I've always thought LifeWithCoco2 was the coolest name ever, very catchy but even more so, her hair literally gives me life! The color the curls, the whole thing is just pure gorgeousness (is that even a word?)
The video we are about to share is a flexi rod* set done on dry old hair using just water. The shine and the bounce of the curls makes her hair look just like a fresh set, you know the kind that you do right out of the shower.
We have seen a million flexi rod* tutorials, and on BHI alone we have given a ton of tips on how to get a great set and the simplicity of this one is right up our alley.
The thing about this set is that it is done on 4 day old hair which has a couple of benefits. One is that after four days, more than likely your hair would have already had product in it so when it comes time to restyle all you have to do is dampen the hair and do your set. This goes for any style whether its, flexi rods*, perm rods*, rollers, curlformers* or just a plain braid or twist out.
Another cool point is the fact that you get to extend your old style for a couple of days without washing your hair mid week. For many of us that is a life save especially when you just don't feel like doing the whole process over again because you are having a hectic week.
We would definitely recommend a style like this mid week because it takes full advantage of your stretched hair and it also helps to stretch your hair if your hair is still shrunken.
Shrunken hair can lead to tangles and if you are prolonging wash day its best to do that with your hair stretched as much as you can. Check out the adorable LifeWithCoco2 a she demonstrates her fabulous flexirod set below.