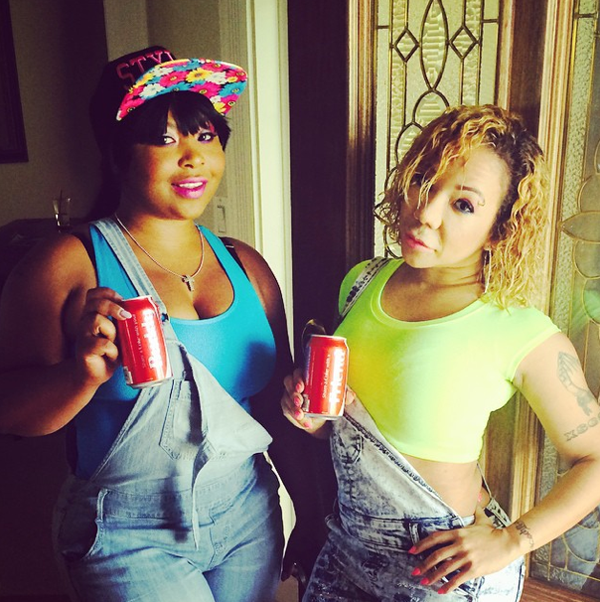 Tiny and her bestie and stylist Shekinah Jo finally got the green light for their new show, which is a reality spin off from Ti and Tiny's "Family Hustle". The show will be called "Tiny & Shekinah's Weave Trip". From the looks of things, it will be like a travelling salon where the two document the ups and downs of running a mobile salon.
In a press release about the upcoming show, it is described as the following:
With a true passion for flawless hair that just couldn't be restricted to the Atlanta city limits, these ladies are taking their talents and philosophy that "everyone deserves fabulous hair" on the road. From The Voodoo Shop in New Orleans to the Navajo Nation in Arizona, no place is safe when Tiny and Shekinah hit the road.

The dynamic duo is ready to leave their comfort zone and experience new cultures, all while being out of their element, starting their new business venture and adjusting to life on the road.

Along the way expect an adventure no one will ever forget, a good dose of laughs, some mishaps, a bit of drama and a healthy amount of shenanigans as the ladies work to get their mobile salon off the ground.
I think that is a pretty neat concept. I would love a salon bus to pull up at my door for an appointment – how awesome would that be? So I am excited to see how they actually pull it off business wise.
Of course the show will be heavy laden with all kinds of fun shenanigans, and we are hoping it will show some really great styling, along with a ton of fun. The show is set for 8 episodes for half an hour each, and it is scheduled to premier on Monday October 13th at 9:30pm on VH1. What do you guys think? Will you watch?