How many of you ever went out to Sally's or your favorite beauty supply store and purchased some miracle oil? You know the kind, right? It is in a bottle that probably isn't the prettiest; the smell might be a bit questionable, but the lady in the shop swears by it because it worked for her, her daughters, and all of her grandchildren.
Maybe you used it for a month and had fantastic results; maybe you used it and it didn't work – the truth is, whether they work or not depends on your own body chemisty and what your scalp environment may be lacking but it also depends on what is inside your miracle bottle.
There are some natural oils out there with real hair growth credentials that you can use in your regimen. In this post I will share 6 oils that have hair growth properties and if you are all very good girls. I might even include your very own growth oil recipe that you can make at home.
1. Jojoba oil*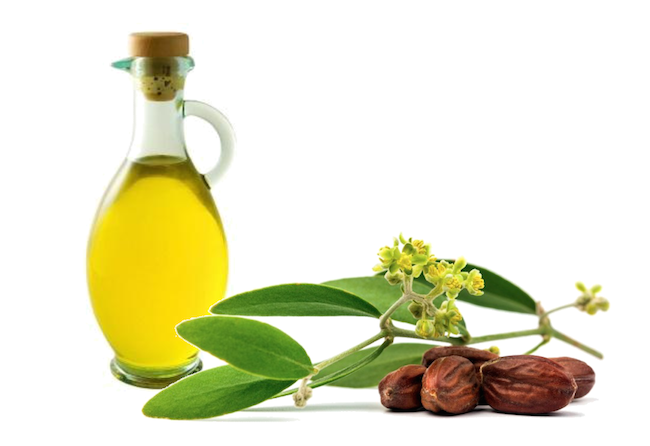 Jojoba oil* is an extract from the Jojoba plant which can be found in places like California, parts of Mexico, and Arizona. What is most amazing about this oil is that it is similar to sebum which is the natural oil produced on your scalp.
What makes Jojoba perfect for aiding in hair growth is the fact that it act as a moisturizer to your strands, scalp and follicles. In other words, it is the best oil to facilitate growth that you can find, making it perfect for any hair growth regimen.
2. Thyme oil
If you ever added a little thyme to your rice or your meat for seasoning, you know it can kick things up a notch in terms of taste. Thyme oil is not very common, but it can be found at any health food store if you are looking for it. Thyme oil is great for growth because it is a great stimulant when used to massage your scalp.
We all know that anything that gets the blood flowing to the scalp will aid in hair growth, so therefore thyme is perfect for any hair growth regimen.
3. Rosemary oil*
If you are talking about hair growth and oils, you have to mention rosemary (it will be illegal if you don't). This oil is another great scalp stimulant so if you are in the mood for a massage, try this one on for size.
4. Lavender oil
If you have a child, then you might use lavender oil in their bath right before bed to get them nice and sleepy. Well lavender oil is great for stimulating hair growth as well. What is even more amazing is that the oil has antibacterial properties making it perfect for ridding the scalp of any infections and can even treat dandruff.
If you want to make a lavender oil mix for your hair, we would suggest mixing it with olive oil*. Here is how: Get some lavender leaves and place them in a glass jar, cover the leaves with olive oil*, cover and store it in a cool dark place for 3 weeks.
Use the oil for your hot oil treatments, giving your scalp a nice massage prior to heating things up. Wash it out with a gentle shampoo and condition, and style as usual.
5. Peppermint oil*
I do not know about you, but I love anything with peppermint, including ice cream and tea. The minty properties of peppermint makes it the ultimate stimulant for hair growth when the oil is used on your scalp.
To stimulate the hair follicles, you do not need a lot of the oil, as a matter of fact you should mix it with another oil, or a little water prior to using it on your scalp.
6. Coconut oil*
Girl, did you really think we would have a growth oil list and not have coconut oil on the list? Coconut oil* is your best friend for so many reasons: it is great for your skin, a great addition to your diet, and amazing for your hair. It is one of the only oils that can penetrate the hair strand, mending it from the inside out.
This is another facilitator oil, which means that it makes your hair and scalp so healthy it creates a great growth environment for your hair.
There you have it: 6 great oils that you can use to facilitate the best growth of your life. But what about that recipe I mentioned? Don't worry, I got you! If you want to make the ultimate growth aid, something you can use for years to come, here is one you can try.
In a bottle: mix three drops of lavender oil, two drops of thyme, and two drops of rosemary. To that mixture, add some grape seed oil as your base of carrier oil and throw in some jojoba oil for good measure.
Use this mix for the ultimate hot oil treatment, pre poo, massage oil, or whatever you like. Do not hesitate to experiment with your mix, with any of the 6 oils we discussed. Just get creative and have a little fun.