Hope you all had a great Christmas! I know I did, everyone ate too much but the new years resolutions and diets start in January right?
If you haven't had your office party yet, I m sure it's about to go down and if you missed it there is always New Years Eve.
There are two questions every girl has on their mind at this time of year; number one, how can I top last year's little black dress? And number two what in the world am I going to do with my hair?
Say we have the dress covered, the hair trends this season are definitely centered on buns and up-dos which are always cool. Here are some hair style ideas you can definitely rock out this year.

1. Bantu Knot Out– This is a classic style very popular amongst curly girls and can look so elegant if done correctly. The key to a great holiday look is minimal separation of the knots once they are dry and you are about to take them down. Try to maintain the definition and individuality of the knots, in other words you should have mini tendrils all over your head that can be accessorized or styled for a glam look instead of that poofiness you can get from over separating.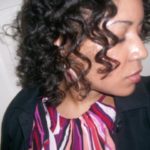 2. The Bun – the trends don't lie, a classic bun will never fail you, there are two great ways to wear the bun that has holiday, sexy, 'I clean up great', written all over it. The first style is a messy bun – for the messy bun start out with your hair having some kind of texture, either from a twist out a braid out, roller set or wash and go that way the messy part still has some structure to it. Style the bun either low on your head or dead center towards the back. Frame the face with mini tendrils to your liking and voila you're done!