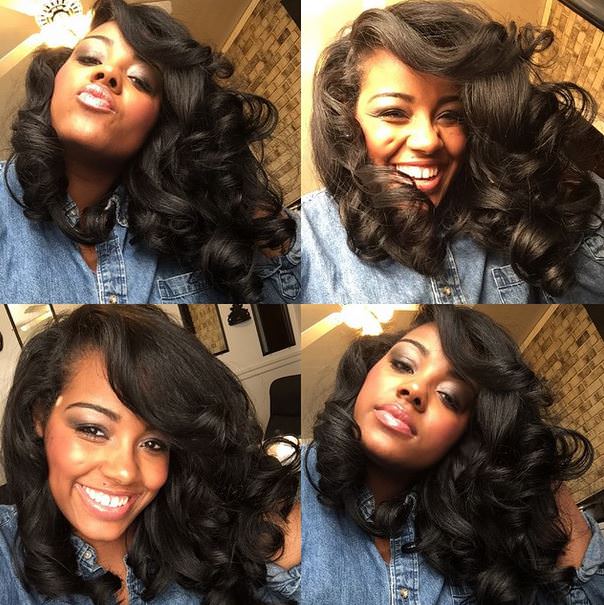 Do you suffer from heat fear? Heat fear is that scared straight feeling you get when someone mentions the words 'blow' 'dry' 'flat' 'iron*' all in the same sentence.
At some point in the year you will decided to join a 'no heat challenge' it might be on Instagram, it might be in your favorite natural hair Facebook group, the point is, you will join and you and the girls will chat it up about how great it is to not have heat in your life and how 'poppin' your curls will be by the Summer.
What if I told you that sometimes heat use can be the least of your problems with regards to keeping your hair healthy.
What if I also told you that there are women who actually prefer to have heat as an integral part of their regimen. Not to mention their hair is absolutely lust worthy and without a doubt healthy.
When you understand your curls, you can be a bit more flexible about how to use heat and what is best for your hair. So the question is, do you prefer to use heat in your regimen? And how do you know if constant use will lead to permanent damage?
The most important thing you need to know when considering the use of heat is how it will affect your strands. For instance if you have fine strands, you should be aware that the surface area of your strand is much smaller than another woman with coarse strands.
This means that your hair is more likely to be damaged by heat even with the use of heat protectants, silicones or any sort of protective barrier.
Coarse hair is not exempt from heat damage, but with that strand set, you have more surface area for heat to work with.
Here are three ways you can use heat in your regimen, without sacrificing your curls.
1. Roller sets and wraps
Roller sets require heat to dry, however the heat circulation of an over head dryer, vs the direct heat of a flat iron is much safer and you can actually do roller sets quite often and not suffer any damage.
If you roller set your hair very often though, you should know that your curls can adapt to the constant stretching even though they do not appear damaged from heat.
Wrapping your hair will give you the option of wearing your hair semi straight if you desire that look. Because you are not using a flat iron*, your hair will not be bone straight, but it will have some body to it.
2. Tension blow dry
The tension blow dry method is done by holding small to medium sections of your hair taut while drying your hair with a blow dryer*, moving it in one direction until hair is dry and straight.
The tension method is not fool proof but it is much safer than the usual method of blow drying which usually involves a revolving brush, and the direct heat of a blow dryer*. Your hair will not be bone straight which is probably not what you want anyway.
3. One pass flat iron
This is by far the most dangerous of the three suggestions, but it can be safe if you spend some time stretching your hair prior to using the flat iron*.
This method is often combined with a roller set or some form of stretching technique before getting to the flat iron*. When the hair is super stretched you can use a flat iron* for just one pass which is enough to get your hair straight.
It is dangerous because using a flat iron* is direct heat, and even one pass can cause damage if you are not careful.
Other things to consider
There are women out there who do not mind heat damage.
"Oh, the horror!", you say.
No, really, they have decided that heat is what they like and if their hair is straight when wet, then that is ok. The question is, is it possible to have heat damage and still have healthy hair?
Before I even tackle that question, let me be clear that this is all relative, meaning having perfect ringlets for some women is not as important as it is for others. It is about preference!
Now that we have that out of the way, the most important thing is the health of your hair, meaning, if using heat is causing your hair to split, break off or shed then you need to think about going heat free for awhile.
Additionally, I will say that some women who have a little heat damage can almost get away with wearing their hair curly, while for others there is absolutely no way you can tolerate the 'look' of heat damage.
The kinkier the texture of hair, the harder it will be to tolerate straight pieces of hair all over your head. It will almost be like transitioning again and we all know how hard that was after awhile.
The point is, get to know your hair and what it can tolerate, physically and aesthetically in order to keep it healthy. That is the best way to decide if you want to keep heat as part of your regimen.
Do you use heat regularly? How do you keep your hair healthy?