Everyone wants that magic pill that will allow your hair to grow massive amounts with minimal upkeep. I know, I know…but guess what honey*, there ain't one.
I did not mean to bust your bubble…OK, maybe I did but it is better to hear it from me than having you screaming at your hair in a few months when it refuses to comply. The bottom-line is there are real foundations to gain healthy hair…PERIOD.
These foundations or truths are nothing new nor are they mind-blowing. They are in fact often overlooked by folks who just want the way to achieve greatness without all the work. Hard work is necessary for anything worth having and that includes gorgeous healthy hair. They are just what the masters of the natural hair world or the superstars have realized and use to their own advantages.
So, stop looking for the perfect shampoo, conditioner, vitamin or gel. The real way to grow long, thick healthy hair are based on these 5 main things:
Diet or food intake
A healthy diet can help your hair stay strong and lustrous. Let's face it we live in a time when fast food is often times the main source of food intake for most of us.
We are short on time, money or resources to get the best foods for our bodies but if you want a stronger body and stronger hair we've got to back off the easy way to fuel our bodies and take more time to do it correctly.
A proper diet can stave off hair loss so getting essential fatty acids like Omega-3 into our diet is necessary. Food like Salmon, tuna and other fatty fish are great along with walnuts, almonds and flax seed oils* can boost your fatty acid requirements.
Vitamins* B6, B12, and folic acid are also important to your hair and don't forget your fresh fruits and veggies especially the citrus ones. Whole grain and fortified grain products, beans, and lentils also contain folic acid.
Another major component of healthy hair are is protein. We need protein in our diets but many of us do not get enough. Lean meat like fish, chicken, eggs, and soy products are good sources of protein and we need to eat one serving every day.
The bottom line is no matter how much we add to our hair from the outside to keep it looking good is not nearly as important as our nutrition.
Environment
Our bodies are affected by our surroundings so of course our hair would be too. Whether you have hard or soft water, whether you live in high humidity or high pollution all of these can and will negatively effect your tresses.
Let's not even talk about the sun. Think a sunburn is bad? Just think about what those sun rays can do to your scalp and hair. Believe it or not but repeated sun exposure will leave your hair damaged and dry, while fading your dye-job.
The environment can be just as damaging as chemicals if not prepared for or rectified. You can downplay some of the harm of hard water by either installing a shower filter* or using a clarifying or chelating shampoos to remove all the gunk and minerals because your hair will be coated with salt or impurities that will need to be washed out regularly.
We cannot always pick where we choose to live and have to deal with so someone living near the Gulf of Mexico may not have the same issues or environmental concerns than someone living in Montana.
Knowing your environment and what it can do to help and harm your tresses are necessary to know which products or techniques you will need to incorporate to keep your tresses healthy and happy.
Your overall health
Hair is an ever-growing tissue affected by our physical well-being, says Elizabeth Cunnane Phillips, a trichologist at the Philip Kingsley Clinic in New York. Poor heating habits, lack of sleep and exercise will not only affect your body but your hair as well.
It may even be the first indicator that your poor health is becoming detrimental. Often times hair loss is a precursor to health problem.
I am struggling with excessive hair shedding myself and I am aware of something deeper is going on with my body because stress can accelerate shedding, particularly in the shower. A medical condition, such as a thyroid problem, could also cause hair issues.
Some or even many health issues cannot be avoided and that often means for your hair as well so checking with a Trichologist, Dermatologist or your primary-care physician is the perfect way to determine if underlying issues are causing your hair loss, thinning or scalp problems.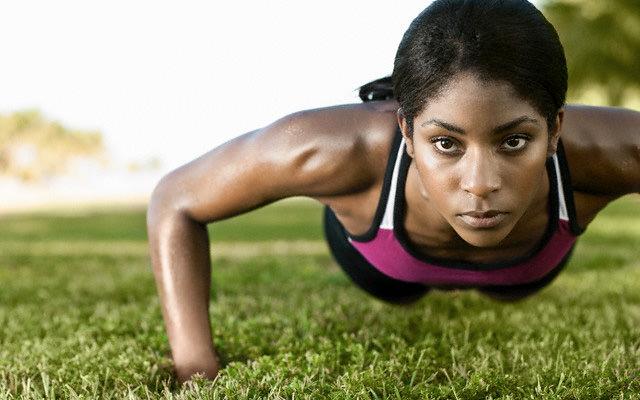 Exercise
I am not just mentioning this because I am kicking my exercise into high gear. There is a real connection with exercise and healthy hair.
Nutrients are carried to the hair in the blood and regular exercise helps to maintain good circulation. At the very least doing scalp massages will help but exercise improves blood flow and the blood, full of nutrients, stimulates the hair follicles and promotes growth.
Exercise is a great stress reliever and lower stress means less brittle hair and less hair loss since stress can actually cause it.
Protection
Do not confuse the factor of protection with protective styling. Protection just means protecting your hair from certain things that can harm your tresses like, wearing too tight styles that can end up adding to much stress to the hair and make it break off.
Not sleeping on satin pillowcases* or not wearing a satin scarf or bonnet is another issue. Exposing your tresses to regular cotton sheets and pillowcases will cause friction and can dry your tresses by robbing them of their natural oils* as well as cause breakage.
Not conditioning your hair enough can also cause damage. Deep conditioning* after every wash and maybe incorporating a protein treatment monthly or a few times a year may be necessary to fill in the gaps in the hair cuticle that get chipped away by heat styling, regular styling or coloring. Stay clear of rubber bands, rat-tail combs, brushes and over-usage of heat.
Well there you have it, five factors that will determine the health of your hair.