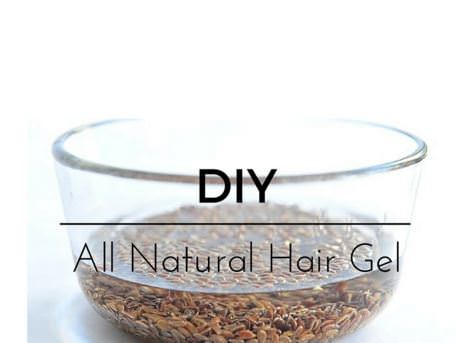 As a natural I'm sure you've already reaped some of the benefits of concocting your own hair aids and rinses from the items you can find in your kitchen. In the same fashion that you made your own protein treatments you can also make your own hair gel.
It may take a few more steps and a little more patience but it's do-able and your hair will love the benefits.
As a natural and cheap alternative here's a simple recipe for an organic hair gel inspired by Bri Hall from SmartistaBeauty.
What you will need:
These ingredients are packed with tons of beneficial components for your hair.
To begin, take approximately two cups of flax seeds and one cup of chia seeds and mix into 1 cup of hot water in a clean container. Let sit covered for about 10-15 min stirring occasionally.
Flaxseed and chia seed both promote hair growth, add
shine and moisture, fight
air loss, and are rich in omega-3 fatty acids. Not to mention you can save and reuse the seeds repeatedly!
Once a gel consistency begins to form, mix in 1/4 cup of fresh aloe vera gel* taken directly from the plant. You can find aloe vera plants at Walmart for about 5 bucks.
Aloe vera is also a natural conditioner which adds strength and shine. It also can fight dandruff and an itchy scalp, helps your hair retain moisture by penetrating the hair shaft and has pH balancing properties.
Next, strain out the seeds using a strainer so you're left only with the gel.
Finally add vitamin E* oil which serves as a natural preserver. The gel can be kept for ~6-8 weeks in the fridge.
Also if you would prefer a little fragrance to your gel feel free to add about 3 drops of either peppermint* or rosemary essential oil*.
Check out the tutorial:
Have you made your own hair gel lately? What's your favorite combination?