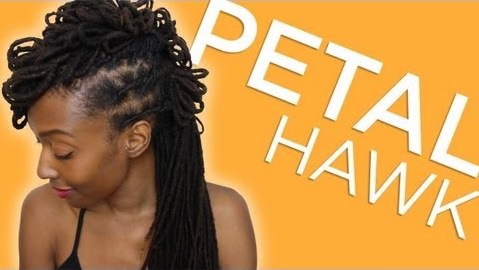 We do not feature alot of loc styles here but we know that we have readers who have locs and who might need a but of style inspiration as well. There are actually quite a few styles you can manipulate your locs into. Today, we are sharing one style that will give you ladies with locs the edge and spunk you've been wanting.
Here, we have what is known as a Petal-Hawk style. This style gives the illusion of an actual Mohawk except far more interesting. The style is a combination of flat-twisting and "petaling" where petaling is simply the method of folding your locs into a flower petal-like shape.
To achieve this style, "Chescalocs" parted her hair into 7 sections. She started her flat twists first, which are on the side of her head, giving the "shaved side head" illusion.
After flat twisting, she tied two of the ends of two flat twists into a knot. She repeated this process until all flat twists were accounted for. These knots create the bottom shape of the Mohawk.
When that was done, she started her loc petals. To create the loc petals, she ravels each loc at the top of her head into a petal-like shape and secured it with rubber bands. To insure that they stayed in place she added pins for even more security while shaping the petals into the Mohawk style.
It is optional to leave the hair down in the back, but as an alternative feel free to petal those as well – it will look just as good.
To sleep with this style, you may want to use a large, satin bonnet* so your petals wont be in disarray in the morning. If things happen to get a bit messy, it won't take too much to pin them back to normal.