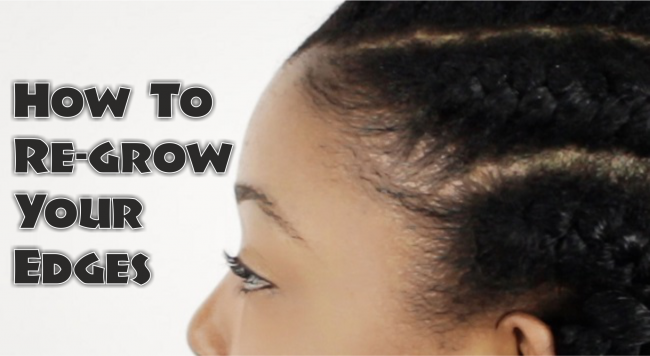 You can have a head full of hair, and have no edges whatsoever. It is depressing, I know, but the good news is, you can recover from it. Many things can cause edges to thin: scratching in that area, combing/brushing roughly, tight hairstyles, and even wigs*.
We know you need answers fast so say no more. Here are some tips you can use to revive and care for your edges:
1. Flat Twist your edges at night or incorporate the Flat Twist into a hairstyle. The Flat Twists will protect your edges from being tampered with at night, so that you can retain length in that area.
2. Sleep in a silk scarf* or cap and for good measure add a silk pillowcase that will save you when your cap or scarf slips off. Silk keeps your hair moisturized as you care for your edges. Cotton will absorb ALL of your moisture.
3. Try Jamaican Black Castor Oil* and massage it into your edges every night. As a matter of fact, many naturals pursue what they like to call a Castor Oil* Challenge. The idea behind the challenge is to massage your edges with the oil every night for a set period of time. When you embark on a challenge, it helps you to focus and get it done – and possibly see results.
All of the above tips are explained here in this video. This YouTuber knows her stuff!
If you are suffering from edge loss, we suggest giving all the tips above a go by including them into your daily regimen. Furthermore, try a Castor Oil* challenge: they are fun; you meet women with similar issues like yours, and the challenge makes sure that you stay on target.
Reviving your edges may take time, but we guarantee that those edges will be up and popping in no time – with consistency and a little patience.